Portable-Pro Seal Coating Equipment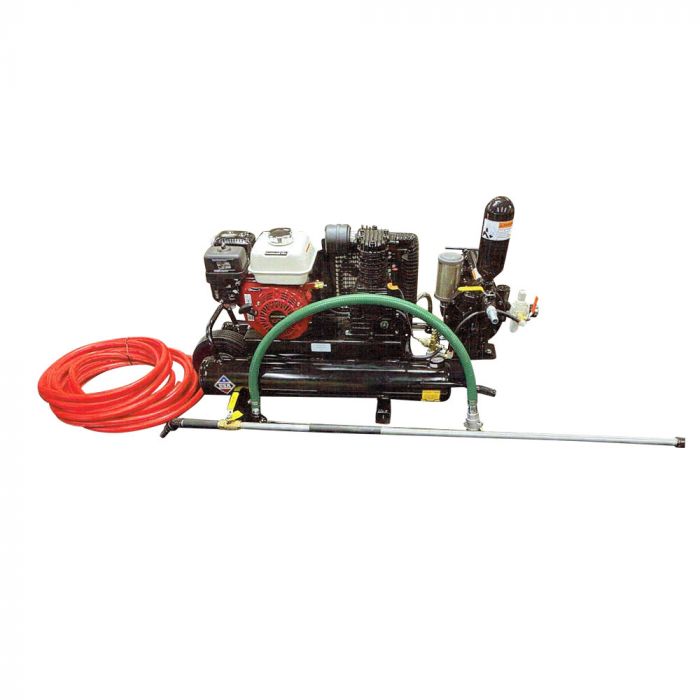 This air operated portable seal coating machine can be attached to any sealer drums, totes or tanks. It lets you spray sealer mixed with sand.


Please call for shipping quote and estimated delivery time.

Prices and delivery times are subject to change due to COVID-19's effects on the supply chain for steel, pump and compressor parts.
Read more
FREE SHIPPING
Availability: Out of stock
Make It a Bundle
Have questions? We're here to help!

Speak to an Asphalt Expert!
Contact our Experts
Seal coat professionally with this Pro Sprayer seal coating equipment system. You can spray directly from drums, totes, tanks, hand agitated units or other storage containers of sealer AND you can also spray sealer mixed with sand. This is great for your customers, as the sealcoat job will last longer and will provide traction when their asphalt is wet.
Dual diaphragm Rolair pump means power packed performance
Connect to your tank, drums or totes with the additional connection kits.
Industrial quality parts means less downtime.
The Standard Pro Spray comes with a 5.5HP GX160 Honda engine and a 1" dual diaphragm Rolair compressor pump. It also comes with a 2-gallon strainer assembly with basket, 75-foot hose, and a 6-foot lightweight spray wand. The transfer kit comes with a 3-foot suction hose.
The spray unit itself is mounted on a frame with back wheels, allowing you to move the sprayer around to different vehicles and locations.
Ordering
These professional-grade units are built to order. We take a deposit when you order, and then the manufacturer takes four weeks to custom-build the seal coating machine for you. Shipping generally takes 1 week via freight to your door.
The Bottom Line
Why choose this over an all-in-one spray system with a tank? It all depends on how you want to operate. If you want to spray sealer mixed with sand, you can choose from this seal coat unit or an air-operated sprayer with a tank system. If you're starting out as a sealcoater and just want to buy drums or totes of sealer—without having to transfer sealer to tanks—this unit will let you spray from those containers instead of from a tank. You can also move the sprayer between drums and totes, depending on the size of your job. When you want to do more jobs in one day, you can add a sealcoating tank to your equipment and you'll already have the spray system to go with it.
You can't go wrong with a versatile sprayer like this!
Blacktop Calculator
Let us help you determine what you need.
Have questions? We're here to help!

Speak to an Asphalt Expert!
Contact our Experts
Specification
| | |
| --- | --- |
| Dimension | 33" tall x 41" long x 22" wide |
| Weight (empty) | 220 lbs. |
| Engine | 5.5HP GX160 Honda engine |
| Pump | Rolair compressor pump |
| PSI | 250 PSI |
| Sealer Hose Size | 75' |
| Spray Wand Size | 6' |
Customer Reviews
Top customer reviews
Customer Questions
How long is the hose for the transfer kit?
The transfer kit comes with a 3-foot suction hose.