Tip Soaker and Spray Tip Combo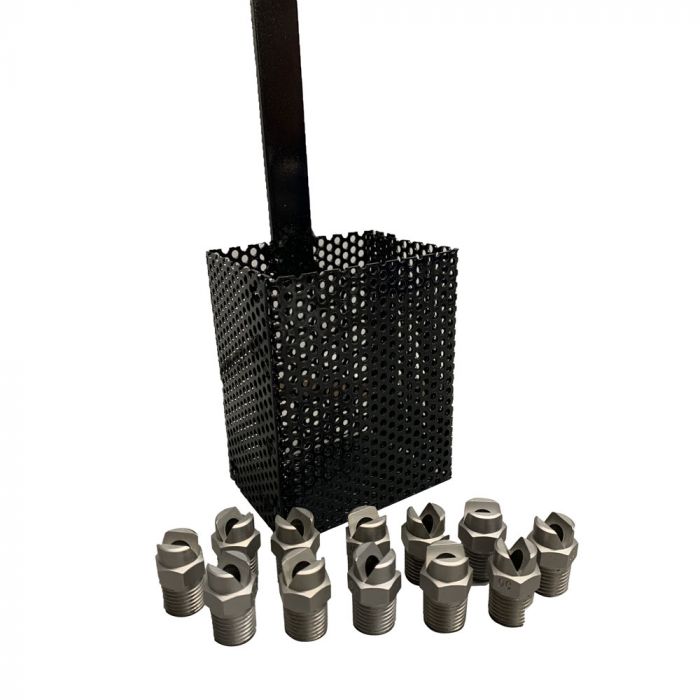 Keep your hands and your sealcoat spray tips clean with this tip soaker box.
Read more
Make It a Bundle
One of the most important things to do at the end of the work day is to soak your spray tips so they don't get hardened sealer stuck in them. This soaker box fits right inside your brush box but holds your tips safe where you can find them quickly and easily.
Simply place the tips in the strainer box when you're finished sealcoating and let them soak in your brush box overnight or for just a few hours. Lift the box when you're ready to reattach them or you're putting your spray system away, and there are your tips, already clean.
Thank you Judd Burdon and Asphalt Kingdom for this awesome tip basket attachment for our brush bucket, no more coffee cans on the back of the trailer! Anyone looking for a new brush box this year, Asphalt Kingdom has the best one I've ever used! - Hal Davis
Sealcoating Tips
What tip size do I need? To determine the tip size for your sprayer, what size wrench do you use to remove or tighten the tip?
9/16" wrench is used for 1/4" tips
11/16" wrench is used for 3/8" tips
Works With
For more great sealcoating spray system accessories, check out our Spray System Accessory Store where you'll find our Sealcoat Edger, Spray Wands, Hose Reels and more.
Customer Reviews
Top customer reviews
I started using these tips this year and they are the best I have used and the price is GREAT

The tip soaker is amazing. As soon as I am done spraying, I drop the tip in the basket which is in my brush box and the next day, I lift out the tip soaker and my tips are clean and ready to rock. The best part is, its not messy