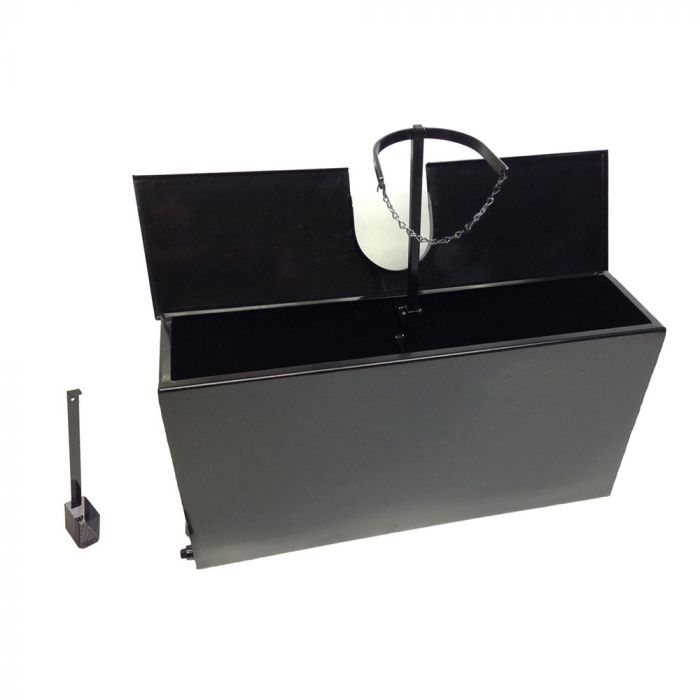 Sealcoating brush box to keep your brush clean for all your jobs. Saves time and wear!
Please call for a shipping quote.
Read more
Add These To Minimize Your Effort!
When you're on the job, you don't want to worry about cleaning your brush after each use. Load this sealcoating brush box onto your truck or trailer, fill it with water, and store your brush or squeegee inside so it doesn't dry out. Whenever you use your brush—either from spreading liquid crackfiller or using sealer while cutting in edges or manually sealcoating—place it in the brush box to rinse and soak. Taking care of your tools helps you save money!
Features
Tank built with 14 gauge steel
Drain
Splash-free lid
Screen 1.5" inches from the bottom keeps tools raised
Lid stop

The lid has been designed to be sturdy and splash-free, so it won't flex. A raised screen at the bottom of the tank provides protection for your tools. The box's tool handle holder has a chain so you can secure your sealcoating brush in the box.
Cleaning Your Tools
This sealcoating brush box lets you soak brushes or squeegees. Keep your brushes or squeegees soaking in between jobs and locations—the material on your tools will dissipate in the water and you should be able to use the tools again for your next task.
Letting material dry on your brush will make the brush unusable, meaning you will need to replace it. Taking care of your brush with a brush box is a smart investment and better for your tools in the long run.
The included drain lets you drain out the dirty water easily. Drain the water regularly to keep your brush tank in good shape and to prevent the drain from clogging with too much built-up material.
Specification
Product
Shipping Dimensions
40" Brush Box
52" Brush Box

52"L x 14"W x 21"H
100 lbs
Customer Reviews
Top customer reviews
Awesome brush bucket, heavy duty, great features to help our brushes last longer! Thank you! ????