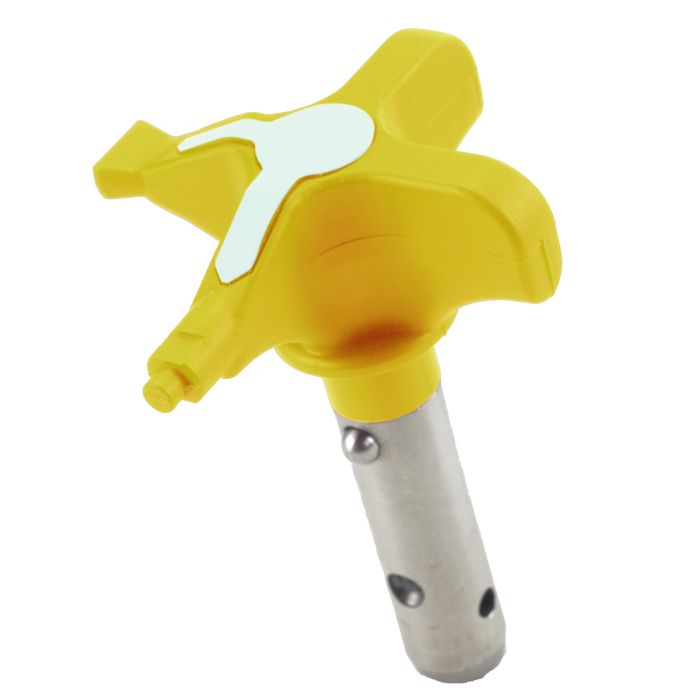 An industry-changing two tips in one! This airless spray tip allows you to work more efficiently.
Read more
FREE SHIPPING
Delivered in: 5-10 Business Days
Availability: Out of stock
Make It a Bundle
Have questions? We're here to help!

Speak to an Asphalt Expert!
Contact our Experts
The new Titan TR2 airless spray tip has a wide angle and a narrow angle spraying, allowing you speed when you need it and greater control for difficult areas. Up a ladder or in a tight spot? No problem - no need to go back to base to switch your tip. Just turn the T2 and the switch is made! Switch to one side for your stenciling needs and back for striping with just a twist.
Use the Wide Angle for 10-12" of surface coverage, allowing you to work fast.
Use the Narrow angle for 3-4" coverage with almost no overspray, giving you precise paint application at slower spray speeds.
Both tips are included on one product, so that you have the quickest change between two tips sizes. You could spray a 4" line and a 12" curb without changing tips!
The T2 is made from sintered tungsten carbide, so you know it's built to last.
Like other reversible airless spray tips, this one allows for quick cleaning of plugged tips. The insert matches the recommended gun filter color to reduce user error and save you time.
Just place the holder for the TR2 onto your existing spray tip guard, close the cover, affix the ring, mount the tip and you're ready to go! It's the new must-have accessory in your line striping equipment arsenal.
Use it for water-based or oil-based paints.
| Product Name | Striping Tip Size | Stencil Tip Size |
| --- | --- | --- |
| 1708/517 | 417 | 517 |
| 1908/519 | 419 | 519 |
| 2108/621 | 421 | 621 |
| 2308/623 | 423 | 623 |
Have questions? We're here to help!

Speak to an Asphalt Expert!
Contact our Experts
Specification
| | |
| --- | --- |
| Dimensions (W x D x H) | 3.5 X 7.5 X 2 |
| Weight | 1 lb |
Customer Reviews
Top customer reviews