Targel Plus Rubberized Sealer Additive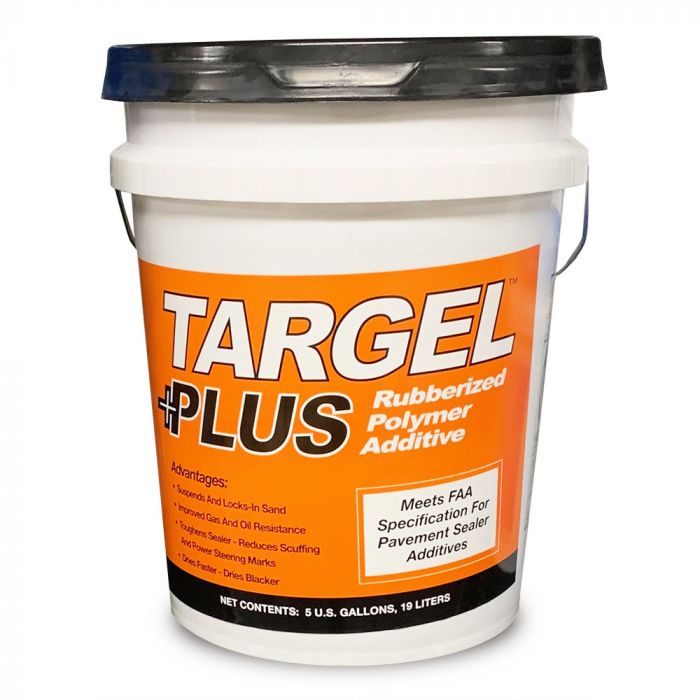 Use this additive to make sealer tougher, stronger, and longer-lasting.
Read more
FREE SHIPPING
Delivered in: 5-10 Business Days
Have questions? We're here to help!

Speak to an Asphalt Expert!
Contact our Experts
The Targel Plus Rubberized Polymer Additive is a multi-dimensional additive that greatly enhances the overall performance of a pavement sealer. Designed to meet FAA specifications for pavement sealer additives, this product helps improve gas, fuel and oil resistance. It suspends and locks in sand for better dispersion. Targel Plus toughens and rubberizes the sealer for added strength and flexibility. This additive also aids in reducing scuffing and power steering marks on the asphalt surface, while creating a blacker finish.
Meets FAA specifications for pavement sealer additives
Toughens sealer to make it stronger and more flexible
Improves gas, fuel and oil resistance
Your sealcoating jobs will have a blacker finish
Suggested Formula
Add 2-4 gallons of Targel Plus to 100 gallons of pavement sealer. Add water and sand according to sealer manufacturer's recommendations.
The formulation above is only a suggested starting point. Actual mix ratio will depend on the job requirements, as well as what works best for your crew and equipment. Generally:
More Targel Plus will result in a thicker, more viscous sealcoating material.
More sand will thicken the mixture.
For optimum pavement sealer performance, do not exceed 8 lbs. of sand per gallon.
More sealer will thicken the mixture.
More water will thin out the mixture.
Mixing the Sealcoating Material with Targel Plus
While the agitator is turning, add the predetermined amount of sealer. Add water, and then the diluted Targel Plus. Add sand slowly and continue agitating until the mixture is homogenous.
Application Tips
Fog spray the pavement with water to dampen it, but don't use too much. Too much water will leave puddles and thin out the pre-mixed sealer.
Sealer fortified with Targel Plus can be applied using a squeegee, brush, self-propelled squeegee machine, or a sprayer system capable of spraying sealer with sand.
When applying sealer with Targel Plus, ambient temperature should not fall below 50⁰F, and no rain must be forecasted with 24 hours after application.
Apply the second coat if the first coat has already dried enough without leaving scuff marks.
For best results, apply a third coat of Targel Plus/Sealer mix on high-traffic areas such as entrances/exits and drive lanes.
Note: If you own the AK130, AK230, Drum Spray System, Tote Spray System or Portable Spray System, you cannot use sand. Use Targel Plus without sand in these machines.
Have questions? We're here to help!

Speak to an Asphalt Expert!
Contact our Experts
Specification
| | |
| --- | --- |
| Shipping Dimension | (5-gallon pail) 13" x 13" x 15" |
| | (1 pallet) 48" x 36" x 48" |
| Shipping Weight | (5-gallon pail) 48 lbs |
| | (1 pallet) 1770 lbs |
Customer Reviews
Top customer reviews