10" 2 Digit Number Kit 00-99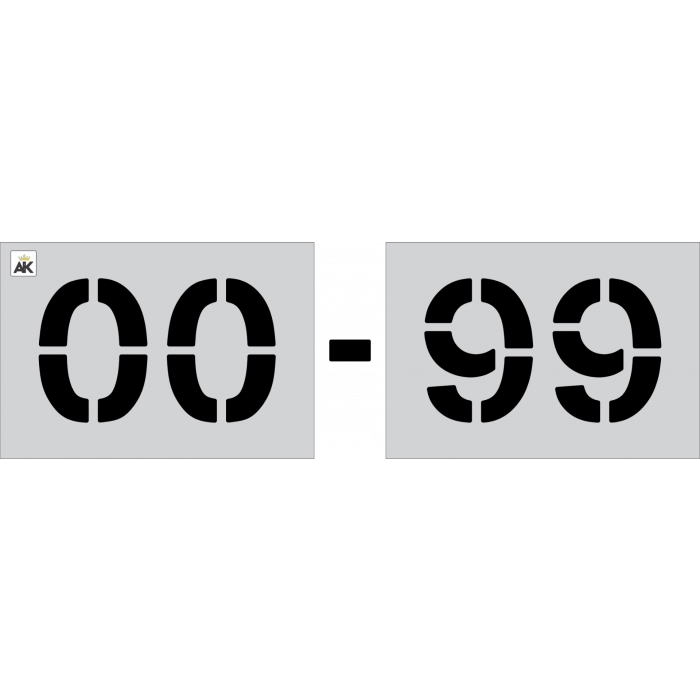 10 2 Digit Number Kit 00-99

Read more
The 10" 2 digit number kit offers unique stencils with the numbers 00 through 99. This kit comes with 100 individual stencils, making it an invaluable addition to any striper's collection. This stencil kit saves hours of time for any large or small industrial project, making it so that you only have to paint one stencil for every hundred numbers instead of using a different stencil for each number. This is a great stencil kit for any type of numbering project on roads, fields, parking lots, stalls, and more. Each stencil is manufactured in the USA with a guarantee that it will be delivered free of any defects or impediments.

The measurements of each stencil are compliant with all industry standard specifications and are a perfect fit for any large or small space. When painted, some of the numbers will measure 12" in width, while others will measure 17". Every stencil will reach a height of 10", with 2" of overspray on all sides. The stencils pair well side by side and can match up perfectly for a symmetrical and accurate paint. The material itself measures either 16" or 21" in width, with a height of 14" for easy application.

There are four stencil grade options available for the make of your numbers. The most durable option is the .080 ALU, which is a 5052 aluminum offering indestructibility. This material can be reused indefinitely over many years without ever wearing out. Another affordable option is the ?" LDPE, which is often named PRO-Grade as it is recommended by most professionals in the industry. This is the most commonly used material that offers thousands of reuses over several years. For a more custom project, the 1/16" LDPE is available. This light duty material is the counterpart to the PRO-Grade with half of the thickness. The most flexible option is the .030" HIPS, which is an economy PVC. This flexible material lays flat for a custom job.
Specification
| | |
| --- | --- |
| Ready To Ship | Yes |
| Shipping Length | 12 |
| Shipping Width | 16 |
| Shipping Height | 21 |
| Shipping Weight | 149 |
| | |
| --- | --- |
| Stencil Width | 12 or 17" |
| Stencil Height | 10" |
| Shipping Width | 12 or 17" |
| Shipping Length | 12" |
| Shipping Height | 21" |
| Shipping Weight | 149 lbs |
Customer Reviews
Top customer reviews