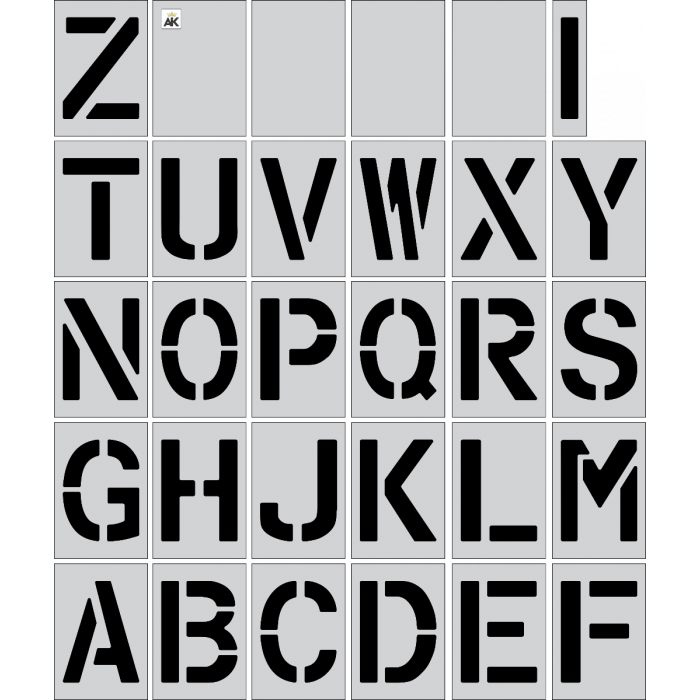 10 Alphabet Kit Stencil

Read more
A useful and versatile tool, the 10" alphabet kit stencil is a must-have addition to any serious striper's or contractor's collection. This is one of the easiest to use stencil kits, as it comes equipped with every letter of the alphabet plus two additional blank pieces and a separator piece for accurate spacing. It is designed to be used in parking garages, stalls, sidewalks, fields, bleachers, and more. Each stencil in the kit is CNC cut for accuracy and will match all measurements and specifications. They are manufactured in the USA with a warranty that guarantees the material to be free of any impediments or defects that could hinder it from its proper use.

There are four material grade options available for the make of the stencils. The most popular option is the ?" LDPE, which is named PRO-Grade as it is recommended by professionals in the industry. It is a common material for this type of stencil, and offers years of durability and thousands of uses before ever needing replacement. The .080 ALU is even more durable, offering an indestructible design that can withstand thermoplastic extruding. If you are invested in a smaller scale or one-time project, the 1/16" LDPE or the .030" are affordable options. These are thinner than the most durable grades, and offer flexibility while still laying flat out of the box and withstanding any type of paint job.

The width measurements of each stencil vary by the type of letter it is. When printed, the letters can range anywhere from 1.5" to 8.5" in width. Every stencil reaches 10" in height for uniform and Federally approved spacing. The material itself measures larger than the stencil on each side, offering over 2" to allow for overspray. The blank pieces measure 8.5" in width by 14" in height, and are convenient when you need to write a word or create a bigger gap between letters. The small spacer reaches 4.3" in width and 14" in height to help with accuracy.
Specification
| | |
| --- | --- |
| Ready To Ship | Yes |
| Stencil Height | 10" |
| Stencil Width | 6" |
| Stencil Type | Letter Stencil |
Customer Reviews
Top customer reviews
Customer Questions
are these one time use? or can they be cleaned and used multiple times?
Most contractors clean them and use them a few times. If you are rough with stencils in general, it is possible they would crack on the first go but in general that hasn't been our experience. If you're looking for something with more reusability, we can provide a heavy-duty version of these - just let us know.