12" Alphabet (A-Z) Stencil Kit 30-pc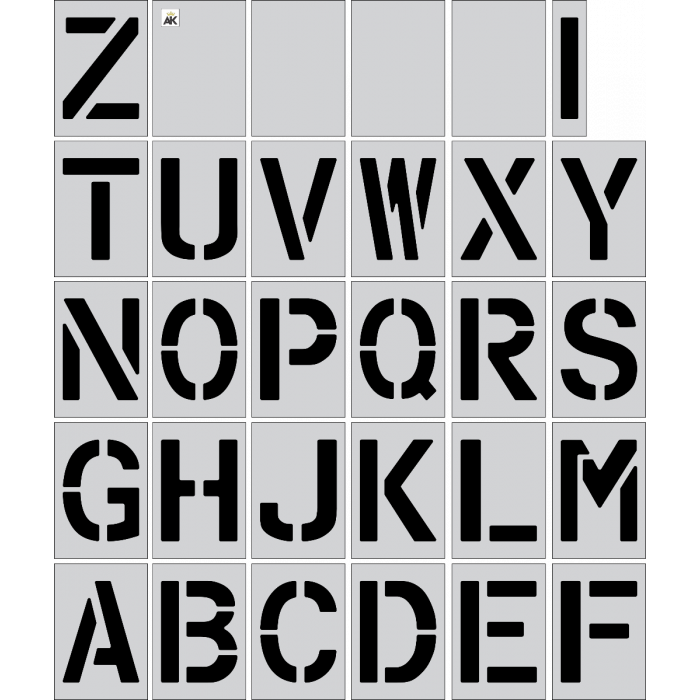 12-inch Alphabet Kit Stencil includes 30 pieces - All 26 letters of the alphabet and 4 blank stencils.

Read more
FREE SHIPPING
Delivered in: 5-10 Business Days
Have questions? We're here to help!

Speak to an Asphalt Expert!
Contact our Experts
The 12-inch Alphabet Stencil Kit is composed of 30 pieces with the letters A through Z (one of each) and 4 blank stencils. Each piece measures 16 x 13 inches and has a 3-inch space around each character to block over sprayed paint from ruining your output. Individual stencils such as this alphabet kit offer endless possibilities of use. The letters can be used to form industry-recognized markings such as "AHEAD", "EXIT", "STOP" and others, without having to spend a lot of money buying each type of word stencil. Just rearrange and realign each piece, as needed, and you will be able to paint without trouble.
Made with flexible clear LDPE material, the stencils are strong enough to withstand up to 3000psi from line striping spray guns. Each letter is 12 inches tall when printed, while the width varies according to the letter used. For example, the letter "I" is only 1.9 inches wide, while the letter "W" measures 10.5 inches. The overall sheet size of each stencil is 16" x 13".
These reusable stencils are available in 4 varying thicknesses. The .080" ALU is manufactured from 5052 aluminum and is very resistant to corrosion, so it wouldn't rust easily no matter how many times it is used. The 1/8" (.125") PRO-Grade LDPE option is the thickest variety of plastic stencil and generally used by line striping professionals who use stencils multiple times a day when working on projects. This variant can last a very long time despite the rigorous usage. The 1/10" (.100") Light-Duty LDPE is thinner than the Pro-Grade, but it is not inferior in any way. Ideal for medium to light usage, this option is recommended for DIYers who do not use stencils are frequently as contractors. The thinnest stencil option is the 1/16" (.060") Light-Duty LDPE. Designed for infrequent or one-time use, this stencil option lays flat on your work surface once taken out of the box, so you can get to work right away without having to worry about the material curling on the edges.
Aimed not only for professional line stripers, this 30-pc. alphabet stencil kit can also be used by shop and store owners who wish to use a guide when painting signs and markings on glass walls and doors.
Have questions? We're here to help!

Speak to an Asphalt Expert!
Contact our Experts
Specification
| | |
| --- | --- |
| Ready To Ship | Yes |
| Stencil Name | Parking |
| Stencil Height | 12" |
| Stencil Width | 9" |
| Stencil Type | Letter Stencil |
Customer Reviews
Top customer reviews
Customer Questions
are these one time use? or can they be cleaned and used multiple times?
Most contractors clean them and use them a few times. If you are rough with stencils in general, it is possible they would crack on the first go but in general that hasn't been our experience. If you're looking for something with more reusability, we can provide a heavy-duty version of these - just let us know.