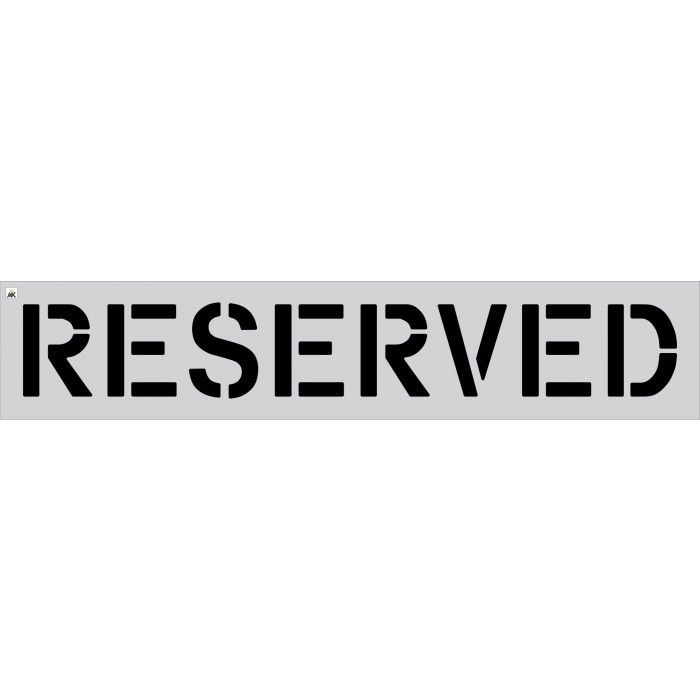 This 12-inch RESERVED Stencil is ideal for accurate and speedy application of asphalt pavement markings.

Read more
To ensure that reserved sections in parking lots are clear and visible to drivers and pedestrians, use the 12-inch RESERVED word stencil for a hassle-free application. Combine this stencil with other regulation-compliant signs like "SPACE" and "ONLY" to create coherent and orderly pavement directional guides.
Made from industrial-grade Low-density polyethylene (LDPE), this stencil is very flexible and lays flat on your work surface for a fuss-free application. With an overall size measuring 18 x 91 inches, this 12" Reserved Stencil has 3-inch spaces extending from the cut-out letters to its edges that prevent oversprays from ruining your output. This durable 1-pc. stencil sheet can last many uses and can withstand 3000psi spraying power when in use. The clear stencil material ensures that you can see exactly where to apply your paint so that your markings are uniformly aligned and accurate each time.
With 4 varying thicknesses, the 12-inch RESERVED stencil can fit any type of job. The .080" ALU is made from sturdy Type 5052 aluminum alloy that doesn't rust easily even when exposed to saltwater. This type of stencil is ideal when marking dockyards and marinas, as these locations are constantly exposed to salt from both the wind and seawater. Next is the 1/8" (.125") PRO-Grade LDPE that professional contractors and line stripers prefer due to its strength and durability even when subjected to daily use. The third option is 1/10" (.100") Light-Duty LDPE. It shares similar traits with the Pro-Grade option, but is only half as thick, making it the obvious choice if you need to use stencils a few times each year. The 1/16" (.060") Light-Duty LDPE is by far the thinnest stencil option, and is best for minimal or single-use.
When marking specific sections in your parking lot, metals stands and similar signs may also do the job. However, they can prove to be obstructive or can get toppled over and snagged when a driver pulls out of his parking spot, resulting in damages to both the vehicle and the property. On the other hand, if the word "Reserved" is painted directly onto the pavement using stencils, not only does it prevent untoward accidents, it ensures that the sign is visible even at a distance.
Specification
| | |
| --- | --- |
| Ready To Ship | Yes |
| Stencil Name | Reserved |
| Stencil Height | 12" |
| Stencil Width | 85" |
| Stencil Type | Word Stencil |
Customer Reviews
Top customer reviews
Customer Questions
are these one time use? or can they be cleaned and used multiple times?
Most contractors clean them and use them a few times. If you are rough with stencils in general, it is possible they would crack on the first go but in general that hasn't been our experience. If you're looking for something with more reusability, we can provide a heavy-duty version of these - just let us know.