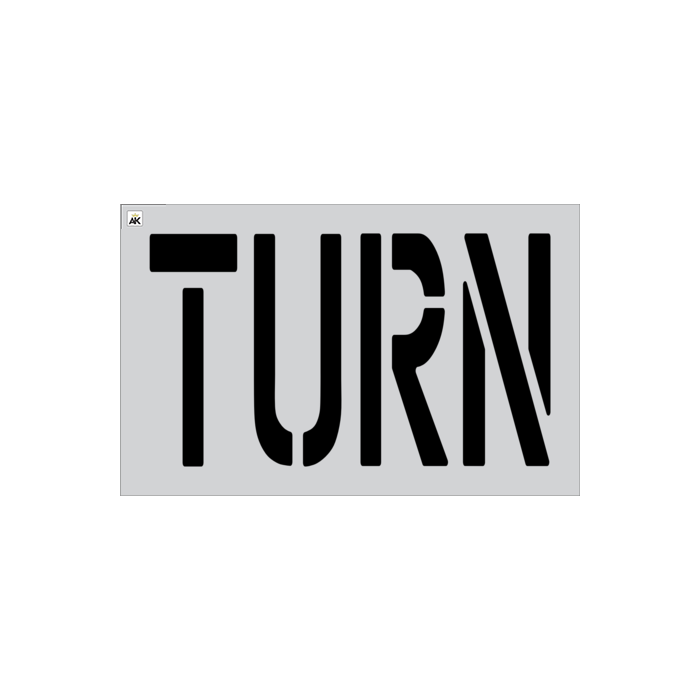 24-in. TURN Stencil for road and pavement markings.

Read more
Intersections and dead-ends can be very tricky for drivers who are not familiar with the area, which is why sufficient lighting and turn indicators are important. The 24" x 9" TURN word stencil is a very efficient option when marking sections of roads, crossings, or single-lane streets where drivers can safely turn without causing traffic disruptions or accidents. Pair this stencil with others such as "Right", "Left" and "No U-" to further specify whether turning is allowed or not to ensure a better understanding of traffic flow in a particular location.

The 24x9-inch Turn stencil is made in the USA using commercial-grade LPDE to ensure durability, flexibility, and tolerance to high pressures of up to 3000psi. This stencil has an overall size of 30 x 48 inches, including a 3-inch overspray border on all sides. Painted output measures 24" x 9", allowing for clear visibility even at a distance.

Choose from 4 different thicknesses and get the best stencil option for your job or project. The available options are as follows: .080" ALU is ideal for jobs that require the stencil to be exposed to moisture, such as from rain or snow. This type of stencil is made from 5052 aluminum, so it is highly resistant to rusting and corrosion. Among the LDPE line-up, the 1/8" (.125") PRO-Grade LDPE is the thickest and generally used by professional contractors and line stripers mainly due to its pliability and resilience to constant use. DIYers who only need to use stencils every few months or less than 10 times a year can greatly benefit from the 1/10" (.100") Light-Duty LDPE. For one-time use or customized projects, the 1/16" (.060") Light-Duty LDPE would be ideal. Although the thinnest option among the four, this stencil grade would be most useful to institutions, small business owners, communities, and schools that do their own pavement or parking lot markings once or twice a year.

Regardless of the thickness or type of stencil you purchase, it is important to clean and store your marking guides properly to ensure long years of use. Peel off dried paint and store stencils flat after each use.
Specification
| | |
| --- | --- |
| Ready To Ship | Yes |
| Stencil Name | Turn |
| Stencil Height | 24" |
| Stencil Width | 42" |
| Stencil Type | Word Stencil |
Customer Reviews
Top customer reviews