28" DOT Handicap Stencil w/ Background 2-pc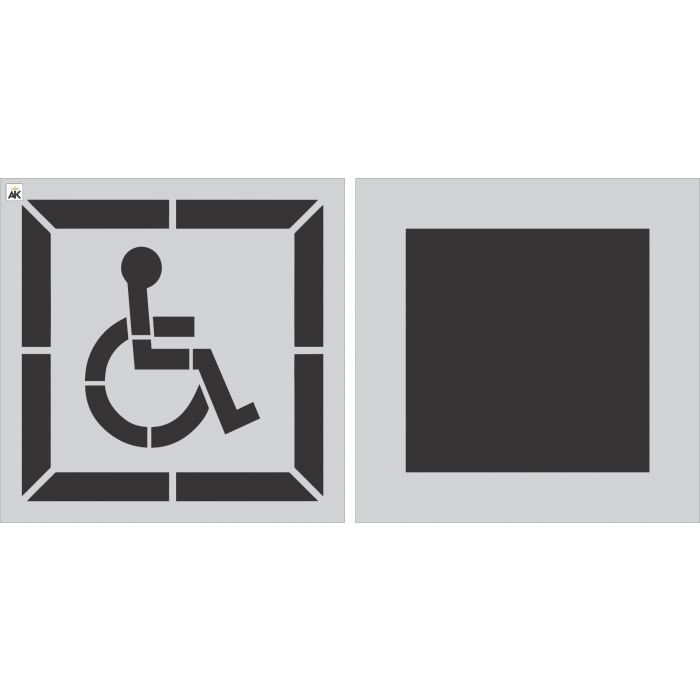 This handicap parking lot stencil is 42" square in both width and height, while the material is 48" wide by 48" high.

Read more
Three alternative thicknesses of the highest clear LDPE grade are offered.
Sturdy and Re-usable
Extremely simple to clean
FREE SHIPPING
Delivered in: 5-10 Business Days
The 28" DOT handicap stencil with a background is a small stencil that leans on the smaller side of industry standards, but is still approved for use in most parking spaces and lots. Make repeated use out of this two-piece stencil by using it to design parking stalls that handicapped drivers and customers can easily access.
Highest clear LDPE Grade material available in 3 different thicknesses.
Durable and reusable.
Very easy to clean.
The specifications of the stencils are ADA compliant and are as follows: the width and height of the stencil itself are 42" square, while the material measures 48" wide by 48" high. Both pieces of the stencil are guaranteed to be free of any blemishes as part of its warranty.
When deciding which material to make the two-piece handicap stencil out of, it is important to consider not only affordability but reliability as well. The most recommended material for this handicap stencil is the 1/8" PRO-Grade LDPE, which commonly allows for it to be reused hundreds or thousands of times before showing any signs of wear. With proper care, this stencil can last for over seven years. Each use will feel just as durable and fresh as the very first time.
The stencils should be spray painted in order, according to industry standards. The square background stencil is placed first, and is sprayed blue for a color that stands out well against the black tar of the parking lot. Next, the handicap symbol is placed on top of it and sprayed white, making for even more vibrancy and color. The stencil will lay flat out of the box, guaranteeing simple use and ease of access for your one-time or multiple-time needs. Item is rolled and shipped in cardboard box.
Customer Reviews
Top customer reviews
Customer Questions
are these one time use? or can they be cleaned and used multiple times?
Most contractors clean them and use them a few times. If you are rough with stencils in general, it is possible they would crack on the first go but in general that hasn't been our experience. If you're looking for something with more reusability, we can provide a heavy-duty version of these - just let us know.