30" DOT 1-pc Handicap Stencil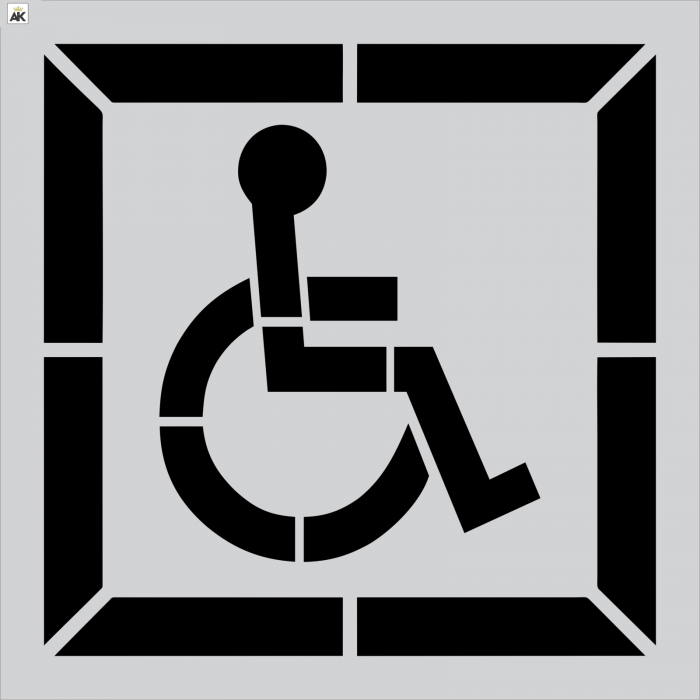 This parking lot handicap stencil is a perfect square form with a 48" width and 48" height.

Read more
Highest grade of transparent LDPE material
Sturdy and re-usable
Usage and Store is simple
FREE SHIPPING
Delivered in: 5-10 Business Days
For an industry standard handicap stencil that comes with a background and fits perfectly in a parking space, try the 30" DOT handicap stencil with background for ease of use. The specifications of the handicap stencil include a 48" width and a 48" height, making a perfect square shape.
Highest clear LDPE Grade material available in 3 different thicknesses.
Durable and reusable.
Very easy to clean.
The simple design allows for any professional striper to achieve a perfect paint job, and comes in a variety of affordable material options. The 1/8" LDPE is the most durable material, allowing the striper to use it for up to a decade if properly maintained. This is the industry standard PRO-Grade material for most common and standard projects. The 1/16" LDPE and 0.030" HIPS are flexible and lightweight materials that are easy for transportation and one-time usage. If your handicap project is smaller than most Federal projects, this material is the most cost effective. The HIPS is made out of a PVC material which is extremely lightweight but still adds durability to withstand spray painting power. The item is rolled and shipped in cardboard box.
Customer Reviews
Top customer reviews
Customer Questions
are these one time use? or can they be cleaned and used multiple times?
Most contractors clean them and use them a few times. If you are rough with stencils in general, it is possible they would crack on the first go but in general that hasn't been our experience. If you're looking for something with more reusability, we can provide a heavy-duty version of these - just let us know.