RY30MK 30 Gallon Crack Sealer Melter Oven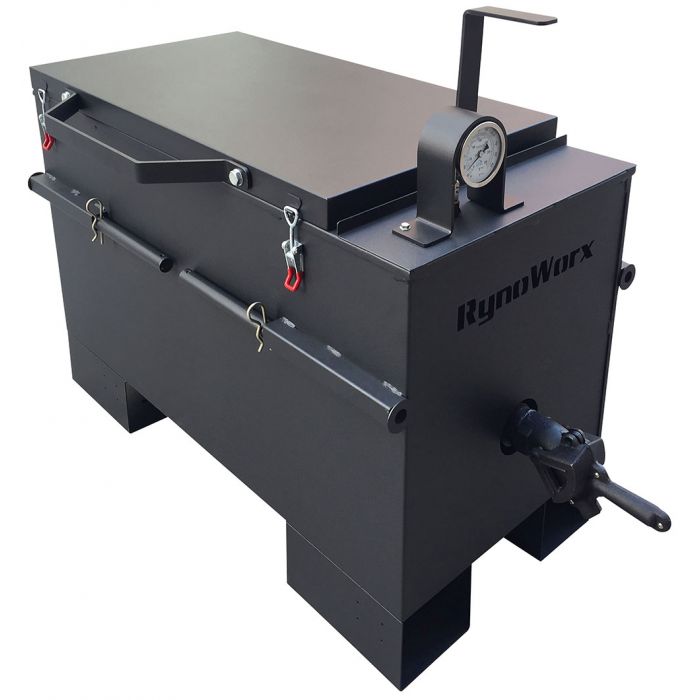 Add AK Make it a Biz Success Pack - Free With Purchase
Unlock your asphalt maintenance business's full potential with the AK Make it a Biz Success Pack, equipping you with expert-crafted tools and exclusive access to the AK Roundtable for accelerated growth and profitable opportunities.
Learn More

Make it a Biz Success Pack
Solid, well built torch-fired 30 gallon melter kettle melts rubber cubes of crack filler for crack filling.
Read more
Safe and easy to use even for workers with limited experience
High-capacity kettle can melt up to 30 gallons of crack fill
Have enough crackfill melted and ready for your whole crew
Free Shipping to commercial address with a dock or forklift
Delivered in: 5-10 Business Days
Add These To Minimize Your Effort!
Have questions? We're here to help!

Speak to an Asphalt Expert!
Contact our Experts
Scale Your Crack Filling Operation With the RY30MK 30 Gallon Crack Sealer Melter Oven
The RY30MK melter is a heavy-duty asphalt melter kettle. Its onboard features are made to reduce operation inconveniences and increase rubber crack filler production even during the most demanding projects.  Bolt it to a truck or trailer, or let it stand alone on a jobsite, wherever you need large quantities of hot and ready crack fill.
Safe and easy to use even for workers with limited experience
High-capacity kettle can melt up to 30 gallons of crack fill
Have enough crackfill melted and ready for your whole crew
What is the maximum fluid capacity of the RY30MK?
You can quickly identify the fluid capacity of a Rynoworx crack filling machine model by looking at the name, precisely the numerical value. Since this model is an RY30MK, its liquid capacity is available at 30-gallon. A larger capacity means that compared to its brother, the RY10MK, you'll have more space to hold your preferred melted crack filler. 
How many feet of crack sealant can it produce?
The RY30MK melter model is suitable for large and demanding crack sealing repairs because of its maximum sealant production. In an hour, you can expect to get 900-feet of melted rubber. At the end of the day, this machine can give you as much as 7,200 feet of crack filler.
What kind of burner does it use?
The RY30MK has propane-fueled heating torch burner. It can easily and quickly melt your choice of crack fillers because it can output 150,000 BTU. Combined with a 30-gallon capacity and its powerful torch burner, you can drastically reduce time and effort spent in melting rubber sealant filler.
Is it easy to operate?
Despite its outstanding specifications, the RY30MK is a straight-forward and no-fuss melter kettle, which ensures ease of operation even for workers with limited experience. Dispensing melted crack filler has never been easy more accessible thanks to its durable 2" molasses valve. There's also a standard manual agitation so you can achieve the right consistency all the time. Rynoworx even added a safety latch to prevent spillage as you work from one area to another.
Is it safe to use?
This machine is fully equipped with CSA/UL approved regulator to provide precise control over fuel flow to the kettle. And the sealed burner is equipped with a CSA / UL approved flameout sensor which detects flameouts commonly caused by wind and prevents fuel from flowing to the burner.
Can I use it while mounted to my truck? 
In addition to the melter kettle's high fluid capacity and efficient heating torch, Rynoworx made the RY30MK to be 100% user-friendly. Instead of having the machine as free-standing only, they've added an option to use this heavy-duty equipment while mounted to your vehicle. You can securely fasten the RY30MK model by using a rope or mounting kit through its 1/2" holes at its legs. There are lifting handles on the sides of the machine for easy transporting.
Crack filler Calculator
Let us help you determine what you need.
Have questions? We're here to help!

Speak to an Asphalt Expert!
Contact our Experts
Specification
Shipping Weight
270 lbs.
Weight when Assembled
263 lbs.
Fluid Capacity
30 US Gallons
Kettle Steel Thickness
14 gauge
Assembled Dimensions
48.3" x 19.0" x 35.7"
Empty Weight
189 lbs / 85.9 kg
Max Capacity Weight
483 lbs / 219.5 kg
Fuel Type
Propane
Max Fuel Pressure
30 psi
Burner Type
150,000 BTU/hr
Heating Torch
Valve Type
2" Molasses Valve
Agitation Type
Manual
Customer Reviews
Top customer reviews
Extremely helpful and knowledgeable and good pricing and fast shipping. This was a flawless experience. I especially liked that they didn't try to sell me things I did not need.
Start your Asphalt Maintenance Business with the most in-demand service!
Looking at doing crack repair as a business? Make your success inevitable with these valuable add-ons, yours free with purchase at Asphalt Kingdom!
You get:
Role-Playing Video

with Judd Burdon: find out exactly what to say when you pitch your business to customers, and how to answer their most common objections.

Crack Filling Proposal Template

: a professionally designed form that you can fill in and print off — convert more business when you look pro from the get-go.

Customizable Social Media Templates

: swipe these great graphics and post them on your Facebook or Google My Business pages — get valuable leads with these proven templates!

Phone Script

written by Judd Burdon for you or your sales team to use when prospecting new business.

Exclusive Access to AK Round Table Meetings

: join us on a weekly Zoom call and get answers to any questions you have about your business.
You don't need to spend valuable time learning in the school of hard knocks — take advantage of the experience we've gained helping 1000s of clients start their own business.
Just click 'Make it a Biz' when you add this product to the cart, and we'll send you all of the above absolutely free. Welcome to your asphalt kingdom.
Customer Questions
When melting the rubberized crack filler, does the whole block with plastic wrapper go into the melter kettle?
Yes, you can put the whole block into the melter kettle along with the plastic cling film. Don't worry because including and melting the plastic film is 100% safe. Plus, it will not affect the adhesion or the performance of the rubberized crack filler.