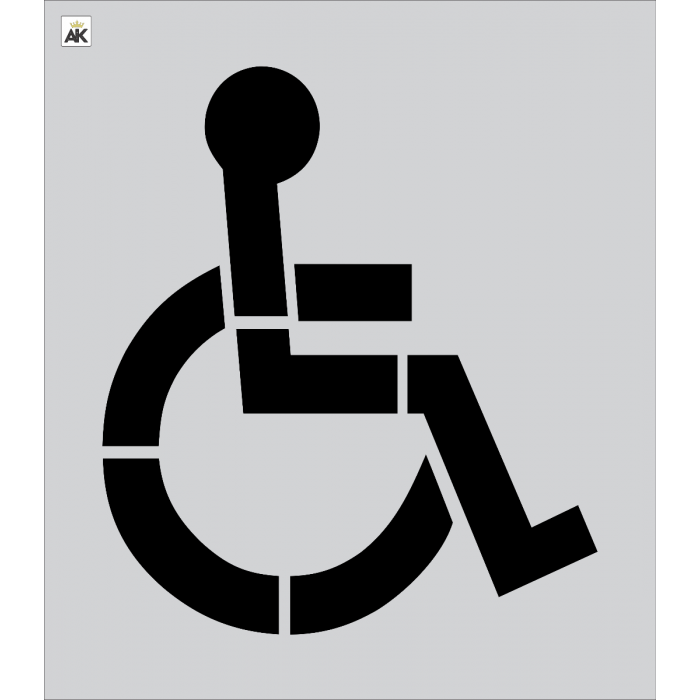 High-quality 39" Handicap Stencil for parking lots.

Read more
Produces clean, sharp edges
Made of durable LDPE plastic
ADA-compliant stencil
FREE SHIPPING
Delivered in: 5-10 Business Days
The 39" handicap stencil is one of the largest handicap stencils available, and is a must-have addition to any striper's or contractor's collection. It is ADA compliant and meets the requirements of Image 10-22 from the MUTCD. Those who are invested in parking lot projects will find a lot of uses out of this stencil. It is typically used to mark handicapped accessible parking spaces, entryways, pathways, ramps, and more. It can be easily viewed from a great distance. This stencil is manufactured in the USA and offers a warranty that guarantees the product to be free of any impediments or defects.
The measurements and specifications of the stencil comply with industry standards and are designed for use in most publicly accessible areas and are ADA compliant. When painted, the stencil has a width of 34" and a height of 39". This large size is easily readable by oncoming traffic, pedestrians, or passersby. The material itself measures 40" wide by 46" high, adding several inches of space on each side to allow for overspray. The stencil is printed on a single sheet, making it easy for application, cleanup, and storage.
There are four material grade options available for the make of your stencil. The most durable grade is the .080 ALU, which is a rigid 5052 aluminum that lasts forever. This indestructible material can be used for any heavy job, and is also useful for preformed thermoplastic striping. The next thickest material is the 1/8" PRO-Grade LDPE, which is an industry standard. This commonly used material is recommended by professionals as it offers years of durability and thousands of reuses without showing signs of wear or tear. If you're invested in a light-duty or custom job, the 1/16" LDPE is an affordable option. This grade is flexible without sacrificing durability, and can last a long time when used sparingly. The .030" HIPS is ultra thin, and adds more flexibility for a custom fit.
Specification
| | |
| --- | --- |
| Ready To Ship | Yes |
| Stencil Name | Parking |
| Stencil Height | 39" |
| Stencil Width | 34" |
| Stencil Type | Handicap Stencil |
Customer Reviews
Top customer reviews
Customer Questions
are these one time use? or can they be cleaned and used multiple times?
Most contractors clean them and use them a few times. If you are rough with stencils in general, it is possible they would crack on the first go but in general that hasn't been our experience. If you're looking for something with more reusability, we can provide a heavy-duty version of these - just let us know.