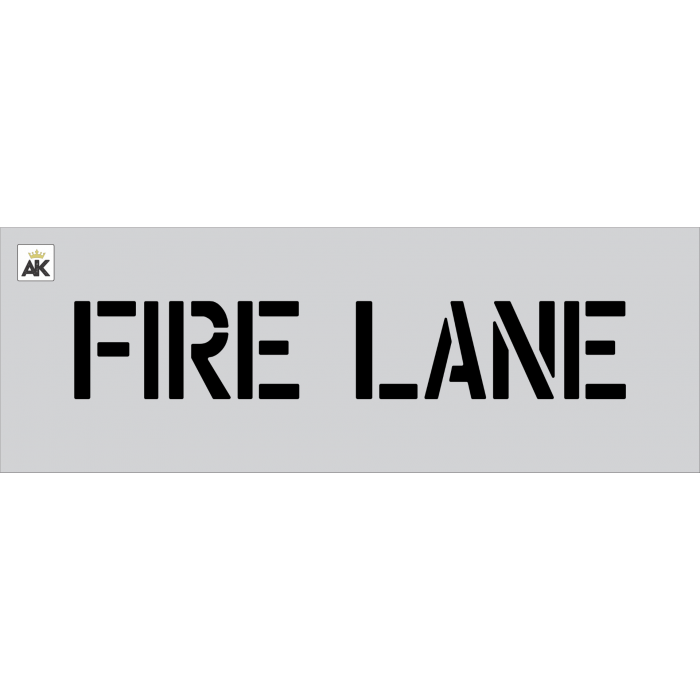 4-inch Fire Lane LDPE Word Stencil

Read more
If you are painting parking lots, whether it is for a store, a mall, school, or other lots, you will need to paint more than just the stripes. You will also have to paint markings for the fire lanes. This 4" Fire Lane stencil is a good choice that can help speed up your work while having accurate road markings.

This stencil is made from durable clear LDPE, so you can easily align the text on the pavement or curb surface and always get professional results. The 4" Fire Lane stencil has a three-inch border all the way around the text, and can be used ideally on asphalt pavements, concrete surfaces, glass or wooden walls, boards and doors. Overall stencil size is 10" x 29".
The 4" Fire Lane word stencil is available in three different thicknesses:
► 1/16" (.060") Light-Duty LDPE for infrequent uses a couple times a year;
► 1/10" (.100") Light-Duty LDPE for multiple uses several times a year; and
► 1/8" (.125") PRO-Grade LDPE for professional line stripers who use stencils on a daily basis.
If you are a professional striper, make sure that you purchase the right thickness of this 4" Fire Lane word stencil for your jobs to ensure outstanding results every time.
Specification
| | |
| --- | --- |
| Ready To Ship | Yes |
| Stencil Type | Word Stencil |
| Stencil Name | Fire Lane |
| Stencil Height | 4" |
| Stencil Width | 23" |
Customer Reviews
Top customer reviews
Customer Questions
are these one time use? or can they be cleaned and used multiple times?
Most contractors clean them and use them a few times. If you are rough with stencils in general, it is possible they would crack on the first go but in general that hasn't been our experience. If you're looking for something with more reusability, we can provide a heavy-duty version of these - just let us know.