42" Straight Arrow Stencil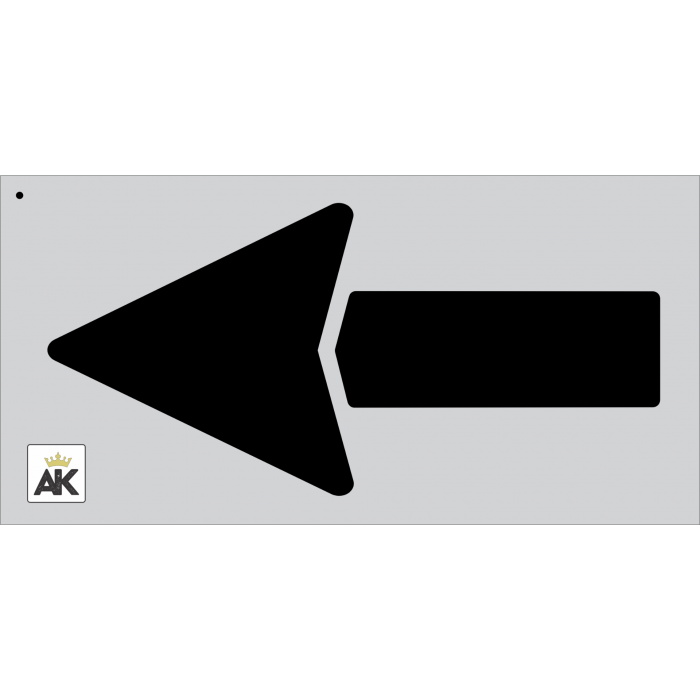 Because of its bigger size, it can be used to hide previous imperfections and redecorate the pavement stencil with an updated road project.

Read more
Highest clear LDPE Grade material available in 3 different thicknesses.
Multiple-Purpose and Flexible
Really simple to clean
FREE SHIPPING
Delivered in: 5-10 Business Days
For a standard arrow stencil, invest in the 42" straight arrow stencil for a factory direct stencil that offers reliability and durability. The stencil is an affordable option that meets industry standards and Federal regulations. One of the best uses of this stencil is to cover up older and smaller arrows. Its larger size can help cover old blemishes and re-decorate the pavement with a new and improved road project. The specifications of this arrow stencil meet all compliances and measure as follows: The tail stroke is 8", while the stencil width is 21" and the height is 42". The material stretches to 27" wide and 48" high, so ensure that there is enough room for placement.

This arrow stencil is made in the USA and comes with a warranty that guarantees that the stencil will be delivered without any impediments or blemishes that could affect its use. Stripers can be assured that the product will lay completely flat, and will withstand any power of paint jobs. Use a pavement approved paint to guarantee that any older street blemishes will be successfully covered up, and your new arrow will remain vibrant and noticeable to all drivers and pedestrians.

There are a variety of material grade options to choose from for your arrow stencil. The ?" LDPE and the 1/16" LDPE are two of the most common industry standards that are recommended for a variety of jobs. The ?" PRO-Grade LDPE is the most used material, and allows the striper to reuse the stencil over and over again without worrying about it becoming warped or weakened. With proper care, the stencil can last for up to a decade. The 1/16" is just as durable as its counterpart, but is half the thickness and therefore more flexible for one-time use. The 0.030" HIPS is even thinner than the 1/16", and is a well-known PVC material that works for sparing applications. The heaviest option for this stencil is the 0.80 ALU, which will last indefinitely and can be reused a countless number of times.
Specification
| | |
| --- | --- |
| Ready To Ship | Yes |
| Stencil Name | Parking |
| Stencil Height | 42" |
| Stencil Width | 21" |
| Stencil Type | Directional Stencil |
Customer Reviews
Top customer reviews
Customer Questions
are these one time use? or can they be cleaned and used multiple times?
Most contractors clean them and use them a few times. If you are rough with stencils in general, it is possible they would crack on the first go but in general that hasn't been our experience. If you're looking for something with more reusability, we can provide a heavy-duty version of these - just let us know.