62" Straight Arrow Stencil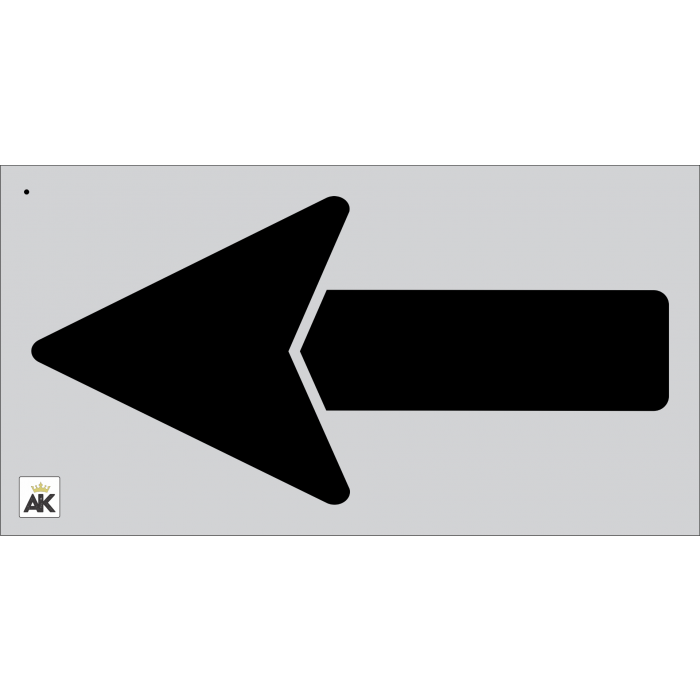 62 STRAIGHT ARROW Stencil

Read more
FREE SHIPPING
Delivered in: 5-10 Business Days
Have questions? We're here to help!

Speak to an Asphalt Expert!
Contact our Experts
The 62" straight arrow stencil is a useful and common stencil that beginner and veteran stripers alike can add to their collections. Its larger size gives it versatility, and it is often found painted in such areas as driveways, parking garages, streets, turn lanes, exits, warehouses, and more. This stencil is approved for roadways with a speed limit of 25 mph or less, as its size grants readability to drivers coming from a distance. This stencil is made in the USA and comes with a warranty that guarantees that it will be free of any impediments or defects that could hinder its intended use.

The specifications of this arrow stencil meet industry standards and are measured to meet all Federal requirements. When painted, the arrow measures 30" in width by 62" in height, with a wide tail stroke of 12". The material itself measures 36" in width by 68" in height, giving plenty of room on all sides of the stencil to allow for overspray and easy placement. The arrow stencil can be delivered to your doorstep in no time so that you can start your project as early as possible.

There are several stencil grades available for the make of this single stencil. For a small or custom project, invest in one of the thinner materials. The 1/16" LDPE is a light-duty material that offers a mix of durability and flexibility. It can last a long time for stencils that aren't used every day, and lays flat for a perfect paint. The .030" HIPS is ultra thin, and is cost effective for ultra custom or single-time projects. This is a PVC material that offers dependable flexibility. For something more heavy duty, invest in the ?" PRO-Grade LDPE. This is the most common material for this stencil, and offers durability and longevity. Use it for several years without worry, and reuse it thousands of times before it ever shows signs of wear or tear. The thickest option available is the .080 ALU, which is a rigid aluminum that offers an indestructible quality for unlimited use.
Have questions? We're here to help!

Speak to an Asphalt Expert!
Contact our Experts
Specification
| | |
| --- | --- |
| Ready To Ship | Yes |
| Stencil Name | Parking |
| Stencil Height | 62" |
| Stencil Width | 30" |
| Stencil Type | Directional Stencil |
Customer Reviews
Top customer reviews
Customer Questions
are these one time use? or can they be cleaned and used multiple times?
Most contractors clean them and use them a few times. If you are rough with stencils in general, it is possible they would crack on the first go but in general that hasn't been our experience. If you're looking for something with more reusability, we can provide a heavy-duty version of these - just let us know.