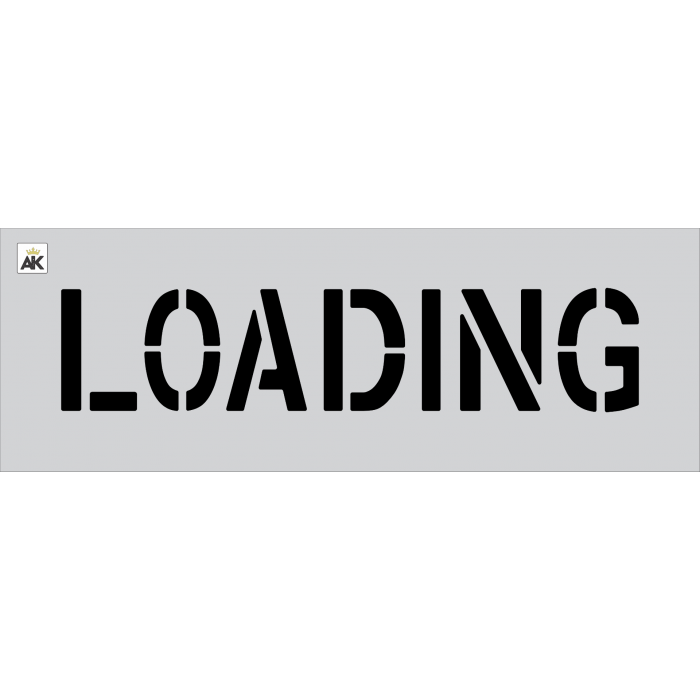 This pavement stencil can be used in conjunction with other widely used industrial stencils like "ONLY," "ZONE," or "NO" to provide even more specific instructions.

Read more
Highest clear LDPE Grade material
Available in 3 different thicknesses
Versatile and Multi Functional
FREE SHIPPING
Delivered in: 5-10 Business Days
Have questions? We're here to help!

Speak to an Asphalt Expert!
Contact our Experts
The 6" LOADING stencil is a useful stencil for any big or small pavement project. Beginner and advanced stripers alike can find this stencil useful for a variety of reasons. It is typically used for small areas such as parking stalls, driveways, and more. It can give clear directions to workers and drivers who wish to know where to load or not load their products. This stencil can be paired with other common industry stencils such as "ONLY", "ZONE", or "NO" to give even further directions.

The most common material grade that this stencil is made out of is the ?" LDPE, which is 0.125" in thickness and recommended by most professionals. It has been named the PRO-Grade LDPE due to its industrial use and guarantee of durability and longevity. It can last for over seven years when properly cared for, and the stencil can be reused hundreds or thousands of times before you ever need to worry about warping or wear. It is the most cost effective material grade for most standard to large-sized contracting projects. Additionally, the stencil comes with a factory direct warranty that guarantees that the product will be made and delivered without any defects or blemishes that could impede it from its full or functioning use.

The stencil is cut with precision to match the standardized specifications of the product. The single stencil complies with all industry standards and contains larger measurements for easy readability. The material measures 41" in width by 12" in height, giving plenty of overspray room for the stencil itself. When painted, the word "LOADING" measures 35" in width by 6" in height, with a 1" stroke width. A stencil of this size can be easily seen by all drivers, workers, and passersby, and a pavement friendly paint will stand out well against the ground for all to see.
Have questions? We're here to help!

Speak to an Asphalt Expert!
Contact our Experts
Specification
| | |
| --- | --- |
| Ready To Ship | Yes |
| Stencil Name | Loading |
| Stencil Height | 6" |
| Stencil Width | 29" |
| Stencil Type | Word Stencil |
Customer Reviews
Top customer reviews
Customer Questions
are these one time use? or can they be cleaned and used multiple times?
Most contractors clean them and use them a few times. If you are rough with stencils in general, it is possible they would crack on the first go but in general that hasn't been our experience. If you're looking for something with more reusability, we can provide a heavy-duty version of these - just let us know.