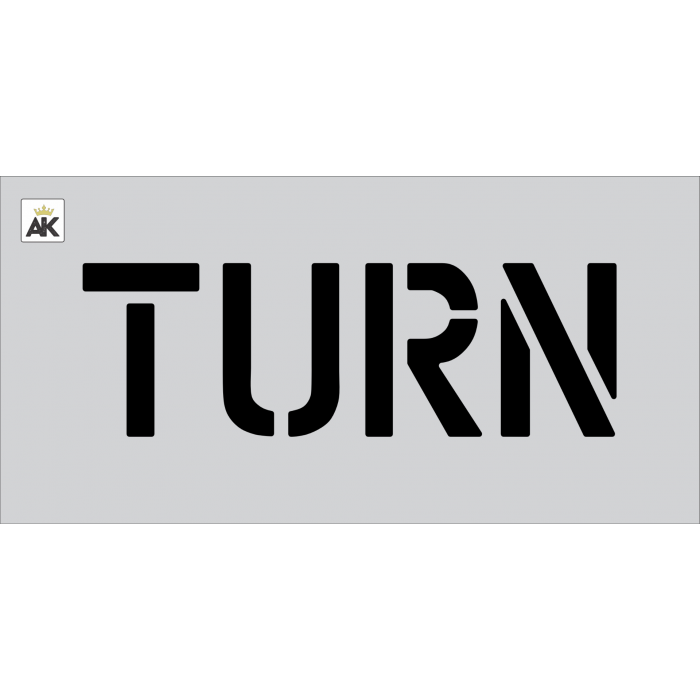 6 TURN Stencil

Read more
Delivered in: 5-10 Business Days
Have questions? We're here to help!

Speak to an Asphalt Expert!
Contact our Experts
The 6" TURN stencil is a convenient stencil to have for any parking lot, roadway, or public street project. Stripers will find this stencil easy to use, clean, and transport. It can be made with a variety of different material grade options that all offer durability and flexibility depending on the heaviness of your project. The stencil is delivered with a factory direct guarantee that promises that the stencil will be free of any defects or impediments that could hinder it from its full intended use. This stencil offers several uses by itself, and it can also be combined with other standard words such as "RIGHT", "LEFT", "LANE", "ONLY", and "NO" to give clear directions to drivers and pedestrians alike.

This is a common stencil seen in most roads and parking lots, and most contractors will see a heavy amount of use with this stencil. The most cost effective material grade for a stencil of this type is the ?" LDPE, which is named PRO-Grade as it is recommended by most professionals in the field. This material is an industry standard, and is the most common material that these stencils are made out of. It offers durability and rigidity, laying flat while withstanding a heavy amount of spray paint. With proper care, it can last up to a decade and can be reused thousands of times before ever showing signs of wear. Pair the stencil with a turn arrow to add further longevity and visibility by drivers in a driveway or on the street. Use a pavement approved paint to keep your stencil vibrant for a long period of time.

The measurements of this stencil meet all industry standards and are matched to provide flexibility and readability on the road. When painted, the stencil measures 21" wide by 6" high. With these measurements, the stencil is built to fit in almost any space while still being large enough for onlookers to see. The material itself measures 27" wide by 12" high, adding extra inches on all sides to allow for overspray.
Have questions? We're here to help!

Speak to an Asphalt Expert!
Contact our Experts
Specification
| | |
| --- | --- |
| Ready To Ship | Yes |
| Stencil Name | Turn |
| Stencil Height | 6" |
| Stencil Width | 19" |
| Stencil Type | Word Stencil |
Customer Reviews
Top customer reviews
Customer Questions
are these one time use? or can they be cleaned and used multiple times?
Most contractors clean them and use them a few times. If you are rough with stencils in general, it is possible they would crack on the first go but in general that hasn't been our experience. If you're looking for something with more reusability, we can provide a heavy-duty version of these - just let us know.