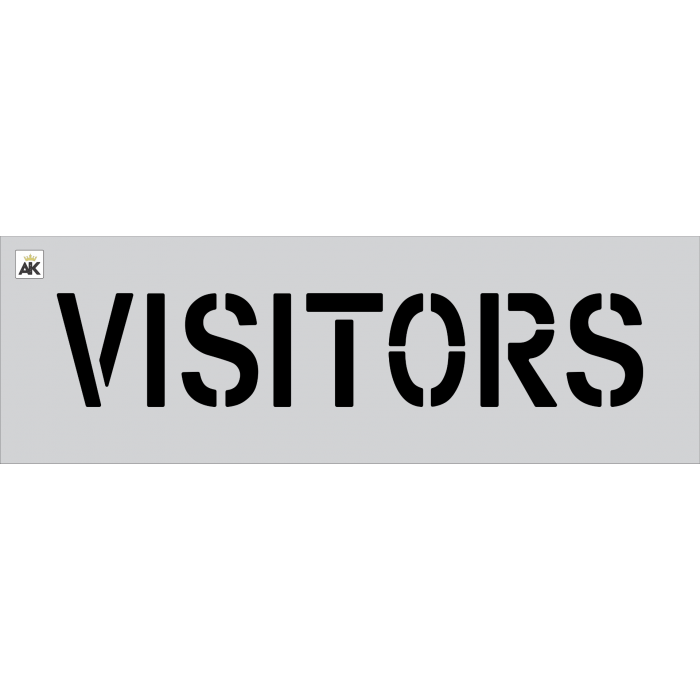 6 VISITORS Stencil

Read more
Delivered in: 5-10 Business Days
Have questions? We're here to help!

Speak to an Asphalt Expert!
Contact our Experts
Any parking lot or designated parking area can make great use of the 6" VISITORS stencil, where contractors will be able to easily designate parking stalls that are reserved for visitors to the attached company or facility. This stencil is a great addition to any striper's collection, as the word is used often and is an industry standard for many projects. The stencil is easy to use, clean, and transport, making it a good choice for beginners and veterans alike. The stencil is made in America with a guarantee that it will be delivered without any blemishes that could impede its use. This stencil also offers a lot of versatility in the fact that the "S" can be tapered off to designate a single visitor instead of many.

The specifications and measurements of this single stencil meet all industry requirements and are approved for a variety of parking lot projects. When painted, the word measures 37" in width and 6" in height, adding clear visibility while still remaining flexible enough to fit into a parking space. The material itself measures 43" wide by 12" high, allowing several inches on each side for overspray. The letters have a stroke width of 1" for added clarity, making it an easy read on any type of pavement.

For durable and long-term use of the stencil, invest in the ?" PRO-Grade LDPE. This is the most commonly used material for this type of stencil, and is an industry standard for many contractor projects. This material can be reused hundreds or thousands of times before ever showing signs of wear and tear. With proper care, the stencil can last for over 7 years and will lie flat for any spray painting job. The .080 ALU is even more durable, and can be used for thermoplastic preformed extruding as well. The 5052 aluminum is indestructible, allowing an infinite amount of resuses for all heavy duty projects. The 1/16" LDPE is the twin of the PRO-Grade LDPE, but offers half the thickness. This grade is flexible and will last a long time on stencils that aren't used every day. The thinnest material available is the .030" HIPS, which is a flexible PVC material that is great for custom projects.
Have questions? We're here to help!

Speak to an Asphalt Expert!
Contact our Experts
Specification
| | |
| --- | --- |
| Ready To Ship | Yes |
| Stencil Name | Visitors |
| Stencil Height | 6" |
| Stencil Width | 31" |
| Stencil Type | Word Stencil |
Customer Reviews
Top customer reviews
Customer Questions
are these one time use? or can they be cleaned and used multiple times?
Most contractors clean them and use them a few times. If you are rough with stencils in general, it is possible they would crack on the first go but in general that hasn't been our experience. If you're looking for something with more reusability, we can provide a heavy-duty version of these - just let us know.