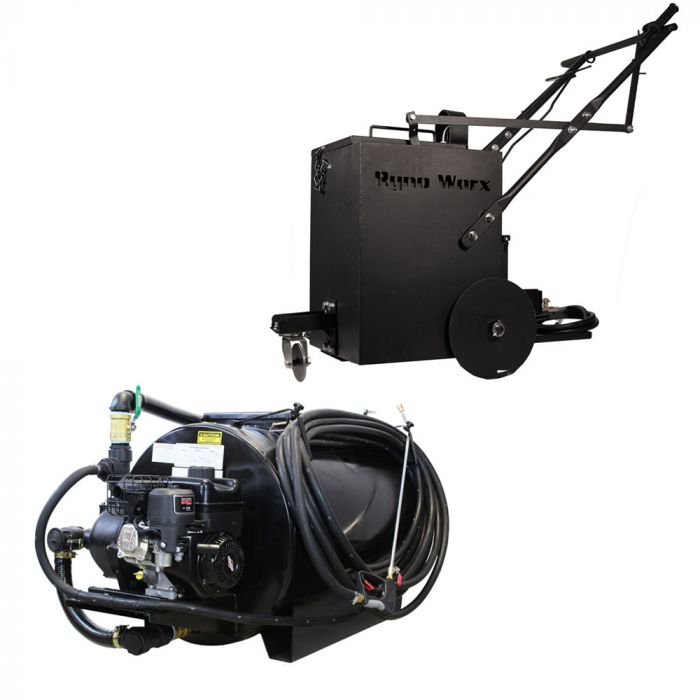 A spray system plus crackfill melter-applicator made for large lanes or parking lots.
Read more
Make It a Bundle
When you need to do asphalt repairs, you need the proper equipment. Our RY10 crack repair machine lets you fill in asphalt cracks for better protection against water and ice breaking up the asphalt from underneath the surface, and the AK130 sealer system helps you sealcoat fast, protecting the asphalt surface from the elements.
Customer Reviews
Top customer reviews
I'm satisfied with it. Great products. Everything that I've purchased works great! It's worth Sharing!

I run your ry10 standard melter and it has been a great unit.

It is a wonderful product

It is a wonderful product, I love it, I used it twice already and it has saved me tons of money.

Je parle français et mon contact a cette endroit est Jennifer elle donne un super service merci beaucoup

Great Company with great products and service.

I would recommend Asphalt Kingdom to all in the Asphalt Asset maintenance industry.

After getting multiple quotes to seal my own driveway from between $1900-2800. (7000 Sq ft) I decided to buy this machine to fill the cracks and seal my driveway myself. Now I own the machine. Takes a good half an hour to get the crack filler melted nicely. Took about half an hour to build. Highly recommend for commercial or residential users.

Great Quality machine, but it does have one issue that keeps it from being a 5 star, the flame blows out very easily with a slightest of a breeze. I wish that Asphalt Kingdom would come out with a fix instead of offering a newer machine that address's this issue. Otherwise it's a good quality for the price machine.

Very nice product and super easy to put together! Shipped quick! Good quality powder coated parts! One part was damaged in shipping and was quickly replaced by action seal! It's maneuverability is awesome, the video on line doesn't do it justice it's easy to use!

The people at Asphalt Kingdom are amazing definitely a 10 out of 10 experience getting to know & do business with them.

When they first got the machine, it was leaking really bad, but after tightening the screws on the pump, the machine worked really great and had not had any issues since then. - Leona

we are very happy with the RY10. We were surprised and amazed that the machine was able to do that. we are surprised that it was very easy to fill the cracks using the RY10

The RY 10 arrived very quickly in two boxes - one 64 lbs and one 94 lbs. Solidly packed and no damage. I took my time to assemble it and it took about 2 hours from opening the boxes and it being ready to go.
I put in one block of filler and fired it up. And I mean fired it up. I had the burner up to about 5 ( just off the 0 mark) and it hit 400 ( red line) in about 10 minutes. I turned some of the paint white. I backed it to the two turns of the regulator ( as they said to do) and it dRead moreid take a bit longer, but it still melted nicely. I did repaint the damage with a high temp paint to keep it looking nice.

When I was done with the first half, I shut the unit down. It had filler in it, and the next day the tube below the valve was clogged as expected. When the filler was melted, I took the torch and lowered it a bit and used it to heat the valve and tube and it cleared in a few minutes.

I did make the mistake of pushing down on the handles when rotating the machine 90 degrees. That raised the foot and I dumped some filler. Let it rest on the ground.

I got this for home use/ maintenance so I need to roll over a lawn. The metal wheels of course sink in, so I used a dolly to move it.

Please understand that nothing said above is a complaint - just letting you know what I did. It worked great and saved me a ton of money and time.

Too be honest. Excellent service. Shipped and delivered in 48 hours. Couldn't ask for better service. Extremely impressed.