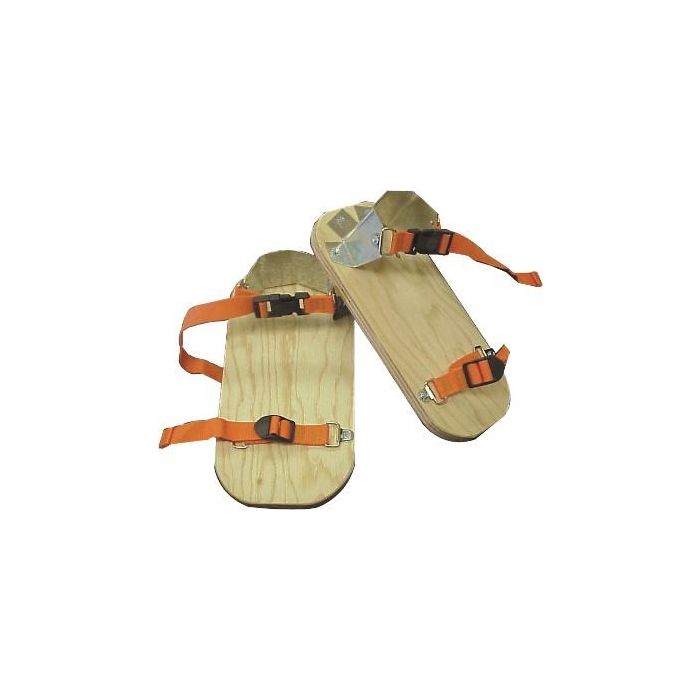 Asphalt shoes is an essential safety and protective gear or tool in your asphalt paving and maintenance job.
Read more
This Asphalt shoes is made of heavy gauge galvanized steel and an AC plywood asphalt shoes variant. Both have flat bottom, allows you to walk on asphalt without compromising the surface. You can use the asphalt shoes to tamp and compact hard to reach places.
The heavy gauge galvanized steel with felt soles asphalt shoes and AC Plywood asphalt shoes are suitable for compacting tight spaces or edges, pothole repairs and pathways. It can withstand high temperatures making it ideal working with hot asphalt pavement repairs and maintenance.
It has quick click buckles with adjustable straps so you don't need to change your working boot. Simply slip in your boot and secure the buckles and straps then you are on good to go in completing your asphalt paving job.
One size fits most.
Completely flat bottom and High heat resistance.
Walk on asphalt without compromising the surface.
Get this essential tool for you and your crew to save time and promote safety in your asphalt pavement maintenance and repairs jobs.
Specification
| | |
| --- | --- |
| Shipping Weight - AC Plywood Asphalt Shoes | 3.30 lbs |
| Shipping Weight - Galvanized steel Asphalt Shoes | 3.30 lbs |
| Shipping Dimension - AC Plywood Asphalt Shoes (L x W x H) | 13.50" x 6.75" x 4.80" |
| Shipping Dimension - Galvanized steel Asphalt Shoes (L x W x H) | 14" x 6.5" x 3.0" |
Customer Reviews
Top customer reviews