Deery Level & Go Repair Mastic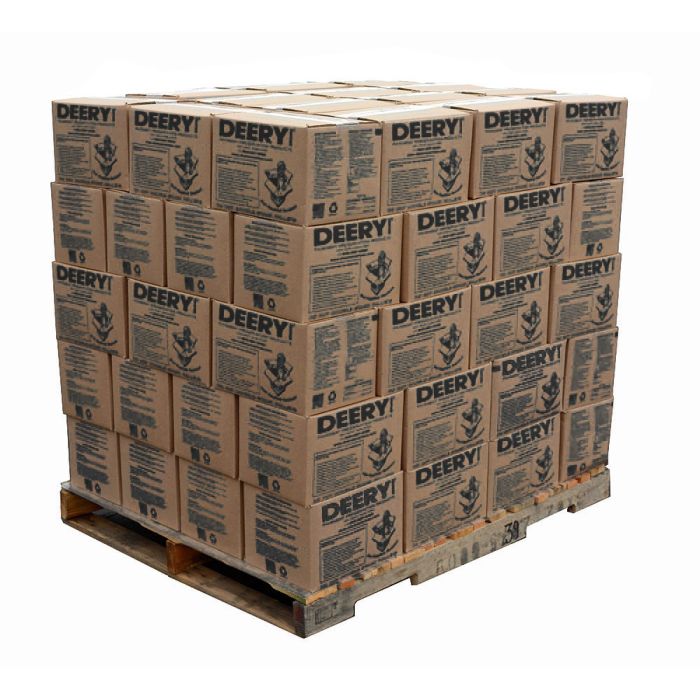 A highly bonding, ready-to-melt repair material for concrete and asphalt pavements, providing quick, durable, and flexible solutions for a variety of pavement distresses.
Read more
Revitalize Your Pavement with Deery Level & Go Repair Mastic: Quick, Durable, and Hassle-free Solutions for Seamless Pavement Repairs.
Highly bonding and pourable mastic repair material
Suitable for concrete, asphalt, and bridge deck surfaces
Provides waterproof, flexible, and long-lasting repairs
Free Shipping to commercial address with a dock or forklift
Delivered in: 5-10 Business Days
Add These To Minimize Your Effort!
Deery Level & Go Repair Mastic: Quick and Durable Solutions for Pavement Repairs
Deery Level & Go Repair Mastic is a high-quality, hot-applied repair material designed for concrete and asphalt pavements, as well as bridge deck surfaces. This pourable mastic is pre-packaged and ready to melt, offering exceptional bonding properties and ease of use. Composed of carefully selected asphalt, durable wear-resistant aggregates, synthetic rubber polymers, antioxidants, and reinforcing materials, Deery Level & Go Repair Mastic is a reliable solution for a variety of pavement repair needs. With its black asphalt color and a density of 107 pounds per cubic foot (14.3 pounds per gallon), this repair mastic provides excellent performance. It is also a VOC-free product, ensuring a safe and environmentally friendly choice.
Features:
Versatile Application: Deery Level & Go Repair Mastic is suitable for a wide range of repair tasks, including feathered edge repairs, pavement cracks, joint separations, bridge approaches, settlement at structures, spalled concrete joints, utility cuts, potholes, thermal cracks, and surface treatment preparations.
Waterproof and Flexible: This repair mastic forms a waterproof and flexible repair system, allowing for expansion and contraction of the repaired surface without compromising its integrity.
Quick Installation: With Deery Level & Go Repair Mastic, installation is quick and straightforward. It usually sets and is ready for traffic in less than 30 minutes, minimizing downtime and disruptions.
Durability: The mastic's composition ensures a tough and durable repair that can withstand heavy traffic and harsh weather conditions.
Benefits:
Efficient Repairs: Deery Level & Go Repair Mastic simplifies the repair process by providing a ready-to-melt solution. This saves time and effort compared to traditional repair methods.
Enhanced Safety: The repaired surface becomes safe for immediate use, reducing the risk of accidents and improving overall safety for both vehicles and pedestrians.
Long-lasting Performance: The combination of high-quality asphalt, aggregates, and polymers in the mastic's formulation ensures a long-lasting repair that withstands the test of time.
Cost-effective Solution: By enabling quick repairs and minimizing downtime, Deery Level & Go Repair Mastic helps save on labor costs and minimizes disruptions to normal operations.
How to Apply the Deery Level & Go Repair Mastic
To use, heat the product in a thermostatically controlled mastic mixer that uses oil as a heat transfer medium. The mixer should have a full sweep horizontal agitator capable of gently lifting the material and ensuring proper mixing. Once heated to the minimum application temperature, dispense the repair mastic onto the prepared repair area. It can be applied in layers if necessary and should be leveled and smoothed with the surrounding pavement surface for a durable repair. For deeper repairs over 2 inches, up to 25% by volume of approved, clean, dry ¾ inch aggregate can be added in layers to enhance stability and expedite cooling. To achieve an optimal skid-resistant surface, broadcast approved aggregate chips into the hot mastic repair material and lightly tamp them to ensure proper embedment.
Note: We are happy to offer FREE SHIPPING to the Continental United States (Alaska and Hawaii are not included; please call for a shipping quote.) Residential, limited access, lift-gate, and deliveries to remote areas will be subject to extra fees. An additional $150 per pallet is also required for West coast shipments - Arizona, California, Colorado, Idaho, Montana, Nevada, New Mexico, Oregon, Utah, Washington, and Wyoming.
Specification
>Full-Pallet
60 Boxes
Product Weight: 2,400 lbs
Shipping Weight: 2,550 lbs
Shipping Dimension: 48" x 40" x 48"

4 Pallets
240 Boxes
Product Weight: 9,600 lbs
Shipping Weight: 10,200 lbs
Shipping Dimension: 48" x 40" x 48"

Mastic Resilience
50% minimum
Mastic Stability
40.0 mm maximum
Application Temperature
375 to 400 °F (190-204 °C)
Customer Reviews
Top customer reviews