Mini Infrared Asphalt Heater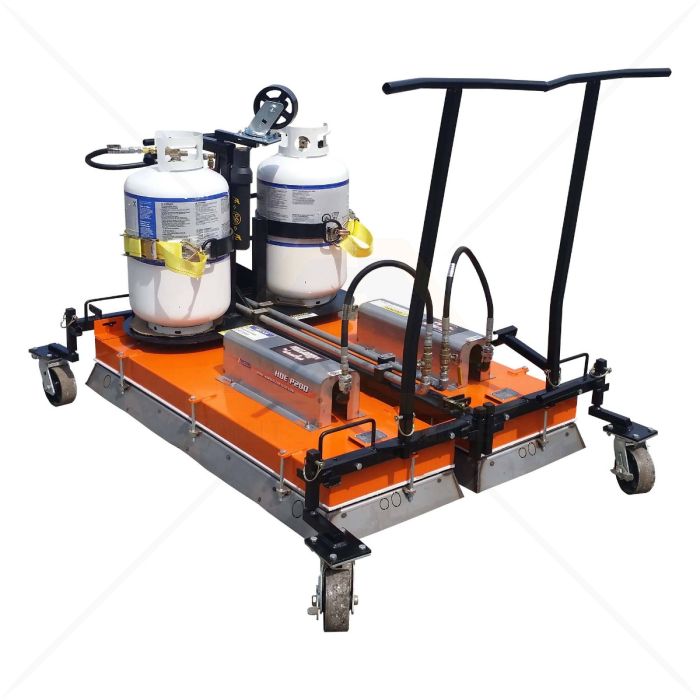 Achieve versatile infrared repairs with multiple configurations! Patch potholes, smooth out birdbaths, and fix large asphalt cracks while efficiently addressing mid-size pavement defects like catch basins.
Please call for a shipping quote.
Read more
Revolutionize asphalt repair with our Mini Infrared Asphalt Heaters
Softens asphalt in as fast as 10 minutes
Heavy-duty casters make it easy to move around
Safe and easy to operate
Delivered in: 5-10 Business Days
Add These To Minimize Your Effort!
Have questions? We're here to help!

Speak to an Asphalt Expert!
Contact our Experts
Mini Infrared Heater – Asphalt Patching Made Easy
Shopping for new asphalt heating systems to jumpstart your pothole patching business? Look no further than Asphalt Kingdom's selection of the best infrared heaters.
Uniform Heat Distribution: Ensure consistent and effective repairs with our Mini Infrared Heaters, which provide even heat distribution across the entire surface area.
Industry-Leading Efficiency: Our heaters boast an impressive 87% infrared efficiency, making your asphalt repair projects cost-effective and environmentally friendly.
Versatile and Convenient: Our Mini Infrared Asphalt Heaters feature adjustable temperature control, patented replaceable heater cartridges, and compatibility with standard LPG vapor propane tanks, offering versatility, ease of use, and excellent fuel economy.
Asphalt and parking lots endure daily exposure to heat and moisture, leading to cracks and damage. But with our infrared heaters, repairing potholes and large cracks becomes a breeze.
The Infrared Asphalt Heater boosts your efficiency with its dependable infrared heating system. It emits extremely high heat, making it capable of softening asphalt in as quickly as five to ten minutes.
It features a patented cartridge system with an easily replaceable cartridge with bolt and nut attachment. The typical cartridge life is approximately 1500 hours, ensuring long-lasting performance.
It is equipped with heavy-duty cast iron casters with grease fittings and two wheels equipped with roll-lock brake kits. These wheels can rotate from side to side, making it easy to maneuver around objects during operation.
This machine is powered by propane and comes with an adjustable C.S.A & C.G.A-approved propane regulator. Secured with a durable nylon strap to prevent it from coming loose and rolling over during operation or transport. (Tank not included)
4' x 3' Infrared Asphalt Heater with Hinge
The 4' x 3' Infrared Asphalt Heater with Hinge is a versatile and user-friendly choice for asphalt repair professionals.
Features:
- Comes with 2 Heaters: This model includes two heaters, providing efficient and effective heating for your asphalt repair needs.
- Hinge Plate: This heater comes with a hinge plate system that allows it to convert into a lineal crack seam heater, expanding its heating area coverage to 4' x 3' or 8' x 1.5'.
- T-Handles: Two removable T-handles are included, enhancing maneuverability on any paved surface. They also act as a jack to assist with caster placement.
- Lifting Handles: Designed with lifting handles for convenient transportation onto a truck or trailer, simplifying the setup and relocation process.
6' x 3' Infrared Asphalt Heater
The 6' x 3' Infrared Asphalt Heater offers a bigger area coverage and a comprehensive package for efficient and flexible asphalt repair, making it an ideal choice for professionals in the field.
Features:
- Comes with 4 Heaters: This model comes equipped with four heaters, ensuring powerful and efficient heating for your asphalt repair projects.
- Stainless Steel Pipe: The heater is constructed with a durable stainless steel pipe, providing longevity and corrosion resistance.
- Regulator: An adjustable regulator is included, allowing you to control the temperature of the heaters. It's C.S.A. and C.G.A. approved for safety and reliability.
- Valves and Fittings: This heater operates on two 30 or 40-lb LPG tanks, which are secured by a 2" nylon strap, ensuring stability during operation. Each heater can be adjusted individually, allowing for various heat zones. The model includes C.S.A. approved valves and a type III propane hose for safety and precise control.
Have questions? We're here to help!

Speak to an Asphalt Expert!
Contact our Experts
Specification
4' x 3' Infrared Asphalt Heater with Hinge
Unit Weight (without tank)
390 lbs
Shipping Weight (without tank)
400 lbs
> Configured to 4' x 3'
Overall dimension:
67" x 42 1/4" x 45 5/16"
Heating area:
48" x 36"
> Configured to 8' x 1.5'
Overall dimension:
118 1/4" x 24 5/8" x 45 5/16"
Heating area:
96" x 18"
6' x 3' Infrared Asphalt Heater
Unit Weight (without tank)
578 lbs
Shipping Weight (without tank)
600 lbs
Overall dimension:
45 5/8" x 97 1/2" x 42 3/16"
Heating area:
36" x 72"
Customer Reviews
Top customer reviews