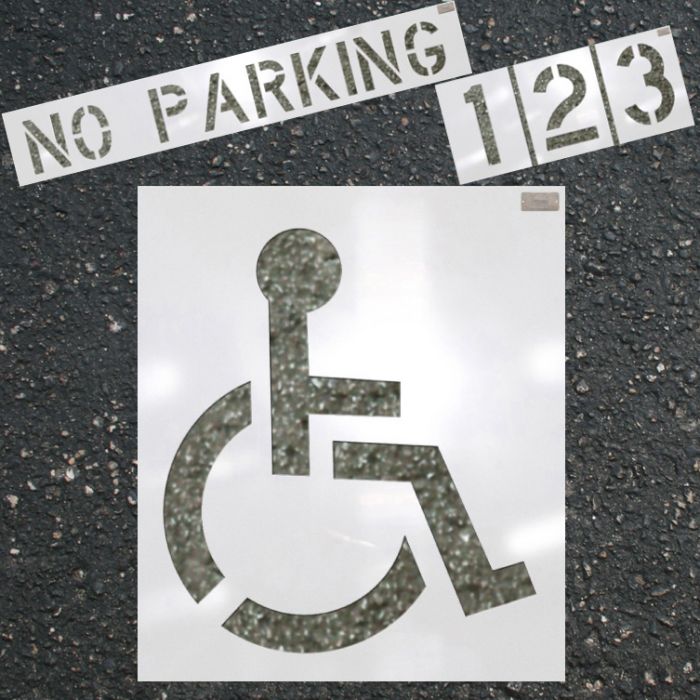 Quality stencils for painting: the basics you need to mark your parking lots & lanes.
Read more
These Titan stencils for painting are molded out of 1/8" polyethylene — the professional standard. This kit contains the basics for doing a parking lot complete with handicap spots, numbered spots, or areas where parking is not allowed.
This kit contains the following stencils:
39" Handicap
12" Numbers (0-9)
12" No Parking

Durable and built to last, these stencils will make each parking area distinguishable to the drivers in your parking lots. They are molded from virgin polyethylene, not recycled, so you won't get white fold marks while handling. The borders are 3 inches, providing the best in protection against overspray.
Easy to clean: at the end of your linestriping day, allow the paint to dry on the stencils for two to three hours. Gently bend the stencil and the now-dry paint will pop up making it easy for you to peel the now dried paint. When you can't wait, use the appropriate solvent for either the water or oil-based paint you used to remove the overspray.
We also have just the handicapped stencil or, if you need a more robust stencil kit, we have the full parking lot stencils kit. It includes the 3 stencils above, along with stencils for Visitors, Fire Lane, Reserved, and both Straight and Curved Arrows.
Customer Reviews
Top customer reviews
Customer Questions
are these one time use? or can they be cleaned and used multiple times?
Most contractors clean them and use them a few times. If you are rough with stencils in general, it is possible they would crack on the first go but in general that hasn't been our experience. If you're looking for something with more reusability, we can provide a heavy-duty version of these - just let us know.