Crack Jet II - Asphalt Crack Cleaning Heat Lance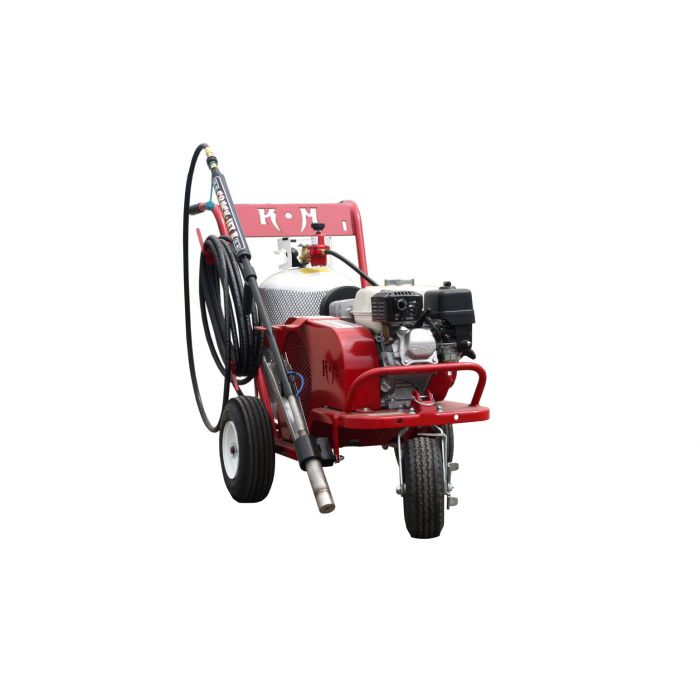 Add AK Make it a Biz Success Pack - Free With Purchase
Unlock your asphalt maintenance business's full potential with the AK Make it a Biz Success Pack, equipping you with expert-crafted tools and exclusive access to the AK Roundtable for accelerated growth and profitable opportunities.
Learn More

Make it a Biz Success Pack
Crack Jet II - Asphalt Crack Cleaning Heat Lance is your go-to asphalt surface preparation equipment. Save time and money by doing fast and efficient asphalt maintenance and repair works.
Please call to request a shipping quote.
Read more
Get Rid of Weeds and Clean Cracks with the Crack Jet II - Asphalt Crack Cleaning Heat Lance
Asphalt surface preparation is an essential part of doing asphalt repairs. You need to clean the surface including cracks, potholes, and vegetation in the surface. Also, you need to be sure that the pavement surface is dry and warm before applying asphalt sealcoat and asphalt crack fillers.
Heat Lance or Hot Air Blaster comes in handy all the time as it will dry, clean, and blows up any debris from the surface or asphalt crack. It will increase sealcoat or crack fill adhesion when your surface is clean and warm during application. You don't need to reschedule and lose time and money in the process.
Crack Jet II hot air lance clean and dries the asphalt crack while etching the wall in an easy less strenuous motion that allows you to maximize time use and energy.
Crack Jet II Features
Heat of 2800 degrees Fahrenheit (2800˚ F) dries moisture in seconds.
Cleans dirt and vegetation with 90 CFM of pressure
Portability: Designed to travel behind, tow, or stroll with just the wand, making even the tightest locations accessible.
Improved Efficiency: Saves time and money.
Maximum rubber adherence is achieved by etching the walls..
Get this must-have surface preparation equipment today and level up your asphalt contracting business to the next level. This is a one-man operation machine that will help your labor cost down to a minimum thus saving you time and money in the long run.
Specification
| | |
| --- | --- |
| Dimensions (L x W x H) | 55.5" x 28" x 36" |
| Weight | 225 Lbs |
| Air Temperature and Output | 2800˚F @ 90 CFM |
| Construction | Welded 11G Steel |
| Wand | Stainless steel barrel and fittings |
| Wand Weight | 7 Lbs |
| Wand Length | 60" |
| Engine | 5.5HP Honda |
Customer Reviews
Top customer reviews
Start your Asphalt Maintenance Business with the most in-demand service!
Looking at doing crack repair as a business? Make your success inevitable with these valuable add-ons, yours free with purchase at Asphalt Kingdom!
You get:
Role-Playing Video

with Judd Burdon: find out exactly what to say when you pitch your business to customers, and how to answer their most common objections.

Crack Filling Proposal Template

: a professionally designed form that you can fill in and print off — convert more business when you look pro from the get-go.

Customizable Social Media Templates

: swipe these great graphics and post them on your Facebook or Google My Business pages — get valuable leads with these proven templates!

Phone Script

written by Judd Burdon for you or your sales team to use when prospecting new business.

Exclusive Access to AK Round Table Meetings

: join us on a weekly Zoom call and get answers to any questions you have about your business.
You don't need to spend valuable time learning in the school of hard knocks — take advantage of the experience we've gained helping 1000s of clients start their own business.
Just click 'Make it a Biz' when you add this product to the cart, and we'll send you all of the above absolutely free. Welcome to your asphalt kingdom.