RUST-OLEUM Striping Machine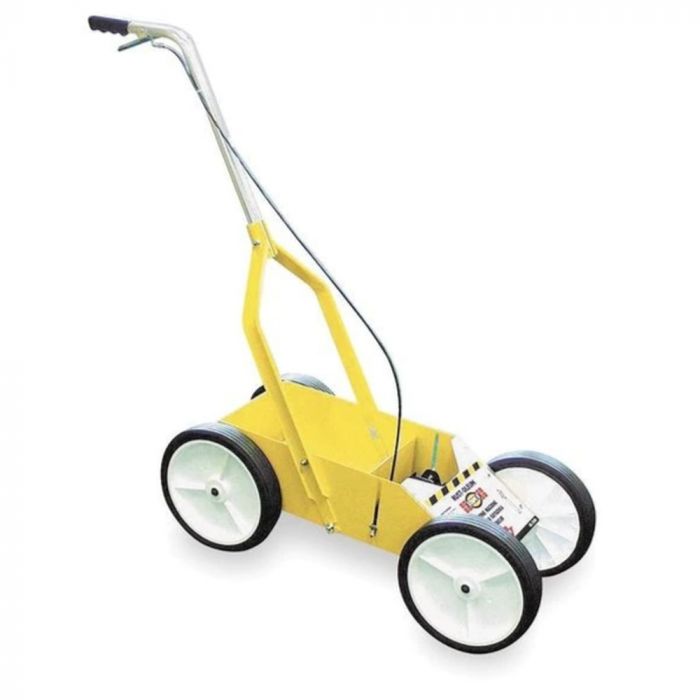 An easy-to-use and affordable manual line striper created for DIYers and novice line stripers.
Simple newbie-friendly design
Made for DIYers and new contractors
Affordable line striper
Read more
New to line striping? It's always a good idea to start small and dip your toes in the water first. A great way to start is by investing in the Rust-Oleum Line Striping Machine. This manual parking lot striping machine is not just for new contractors; it's also great for property owners and managers who want to paint their parking lot themselves and save money for years to come.
This line painting machine features an all-steel construction to ensure its sturdiness. Equipped with four sturdy plastic wheels that roll smoothly even on rough and poorly maintained asphalt.
Using the Rust-Oleum Line Painting Machine
This manual line striper's design is so easy even those without experience in line striping can paint a straight line with it. Just place the spray can upside down between the clips and make sure that the T-tip nozzle is positioned parallel with the striper's spring arms. Adjust the height so you can paint narrow 2" lines or wide 4" ones on the pavement. Paint is dispensed by pressing the trigger on the handle.
It features an easy-to-access compartment where you can have all your extra spray paint cans in one place. No need to go back to your truck to replenish once the original can runs out of paint or worse, have the cans lying around in the parking lot. This compartment can accommodate up to 12 spray paint cans.
This parking lot line striping machine is designed to be used on various surfaces, including asphalt, concrete, and grass. Use it on parking lots, athletic fields, municipal roads, and more! The 30 3/4" creates 3" to 6" wide lines while the 32"L creates 2" to 4" wide lines.
Its lightweight and compact design make it easy to transport.
Specification
Shipping Dimension
36" L x 12" W x 12" H
Storage Capacity
12 Cans of Striping Paint
Material
Steel
Wheels
4 Wheels
Striping Line

301/3/4": 3" to 6" wide lines
32": 2" to 4" wide lines
Customer Reviews
Top customer reviews