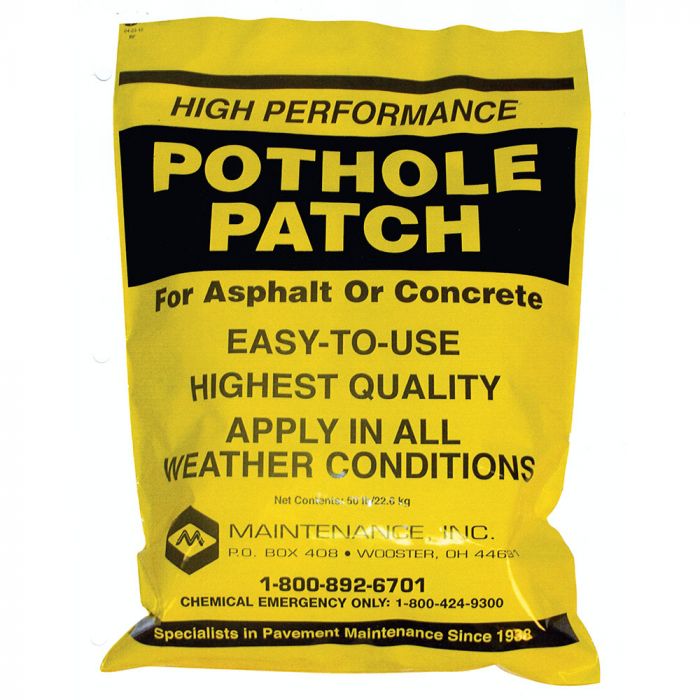 50lb bag of Cold Asphalt Patch for all-season asphalt patching. Patch 4 sq feet / bag. Minimum Order: 6 Bags
Read more
Can be used all year long
Ideal for DIY or contractor use
Sets within 3-4 hours
Free Shipping to commercial address with a dock or forklift
Delivered in: 5-10 Business Days
Add These To Minimize Your Effort!
Have questions? We're here to help!

Speak to an Asphalt Expert!
Contact our Experts
Year-round cold asphalt patch product for patching holes in asphalt. You can patch at anytime of the year, no matter how cold it is. Cures extremely solid within 3 to 4 hours.
One 50lbs bag of Cold Asphalt Patch will allow you to patch 4 square feet of asphalt 1 inch thick. Mimimum order: 3 bags.
Initially, cold patch asphalt was used for temporary patching and repair on potholes. Over time, manufacturers have made some improvements in its formulation such that the material became easier to work with and can last as long as the hot asphalt mix. This development is indeed good news for homeowners who want to save money by doing their own driveway's pothole repairs, wherein buying hot asphalt mix and equipment is not feasible for their needs.
Some people complain that they do not get the results they have been expecting from using the cold asphalt mix. Perhaps what is overlooked is that using good material such as the Cold Asphalt Patch is only the beginning. To ensure long lasting results, there are also some other important things that must be observed. These include preparing the pothole, tamping, allowing the cold asphalt to cure, and applying a sealer.
A strong asphalt patch starts with the right preparation. This entails making sure that the pothole is cleaned of dirt and loose pieces of asphalt. Make sure too that the asphalt edges of the hole is solid; remove the crumbling bits with a chisel or screwdriver. It is also important that before pouring in the Cold Asphalt Patch the depth of the pothole is assessed. Ideally, the patching material should not be less than one inch and not more than two inches. If it is too thin, it will not be durable but if it is too thick, it will take longer to cure and harden.
If the hole is more than two inches deep or if the foundation has been removed, it must be filled up first with gravel. This takes us to the next important thing: tamping. Tamp the gravel with a flat steel tamper or the end of a 4x4 post prior to applying the Cold Asphalt Patch. After applying the asphalt filler, tamp that down as well. Tamping down both layers of gravel and asphalt patch is very important to the success of a pothole repair job. Otherwise, the pothole will just reappear or the patch will sink and cause indentations or pits.
The cold asphalt filler has been formulated so that it can be driven on immediately since it starts to harden upon application. However, it is best to allow the patch to cure totally before letting it bear heavy loads. Thus, if you want long lasting results from the Cold Asphalt Patch allow it to thoroughly cure and reach its hardest state before subjecting that part of the driveway to heavy usage especially if it is a wide pothole. Some parts may still be soft and if you drive over it, dimples or depressions may appear on the repaired patch.
Applying a sealer or sealcoating will also make that patch last for a long time since this prevents the asphalt from becoming brittle. Sealcoating preserves the asphalt's flexible properties, which can deteriorate from exposure to changes in weather and outdoor temperatures. You have to wait for the Cold Asphalt Patch to thoroughly cure as well before applying the sealer. Sealcoating before the patch is cured will not allow it to harden thoroughly because the sealer will cut off the air supply that hardens the asphalt.
Note: We are happy to offer FREE SHIPPING to the Continental United States (Alaska and Hawaii are not included; please call for a shipping quote.) Residential, limited access, lift-gate, and deliveries to remote areas will be subject to extra fees. An additional $150 per pallet is also required for West coast shipments - Arizona, California, Colorado, Idaho, Montana, Nevada, New Mexico, Oregon, Utah, Washington, and Wyoming.
Have questions? We're here to help!

Speak to an Asphalt Expert!
Contact our Experts
Specification
Shipping Dimension
13" x 13" x 15"
Shipping Weight
50 lbs
Customer Reviews
Top customer reviews
Customer Questions
How long does the cold patch stay shelf pliable if not used immediately?
Our pothole patch is good for 3-4 years. It may harden a bit in the bag but simply setting it in the sun or in a heated area will soften it again.
How does the patch adhere and bind to the existing asphalt? Does there need to be any reinforcing installed with the patch?
No reinforcing required. Make sure the foundation of the patch is leveled and compacted, and then put the patch in. We recommend a depth of 2.5" - anything deeper should be filled with crushed stone.
How big of a perimeter for saw cutting is needed for the cold patch?
Just to the edges of the visibly decayed area.
Can this material be used to build up asphalt, as a shim or ramp, to allow clear passage of a plow over a slightly raised manhole cover?
Yes, the cold asphalt patch product can be used to build up asphalt. Gator patch would not work for this use though.