Patch Asphalt - Half Pallet / 28 Bags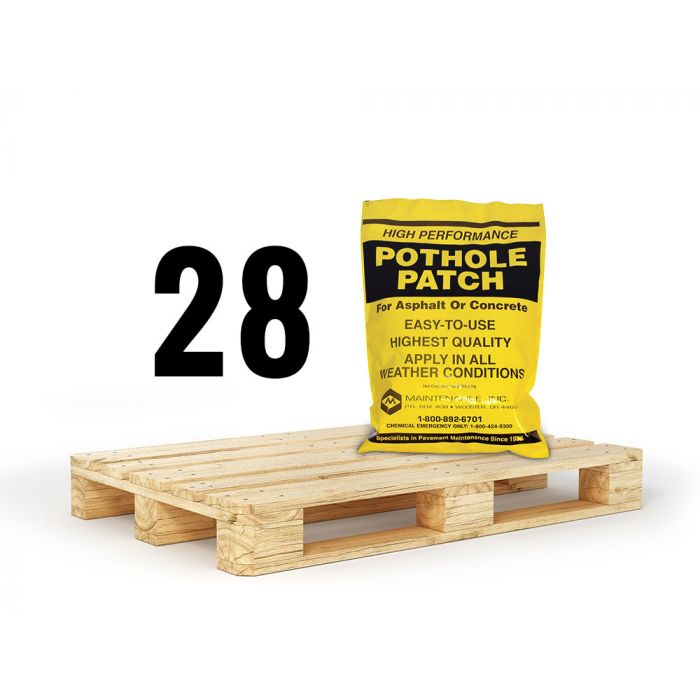 Our rapid-setting three-step Asphalt Patch lets you repair potholes in any season.
Read more
Free Shipping to commercial address with a dock or forklift
Delivered in: 5-10 Business Days
Add These To Minimize Your Effort!
Order 28 Bags of Best-Selling Patch Asphalt (Half Pallet)
Clean, pour, tamp, done!
Patching potholes is a necessity for anyone who owns asphalt, or their property will continue to deteriorate. Providing those repairs is lucrative, and repairs can happen in any season with this patch asphalt.
Works in all seasons
Simple process for application
Long-lasting fix
During the winter, many sealcoating companies have to slow down. That means fewer hours and less profit on account of the weather. However, winter is when the potholes need the most repair. Adding pothole repair is the perfect solution for companies.
Cold patch asphalt repair is an excellent option for many reasons. For one, there is no heavy machinery to haul around. Second, creating a lasting repair only requires a few hours of cure time. That's faster than almost any other option in the winter.
The process for using this asphalt patch material is also straightforward. After some basic cleaning of the pothole, pour the material into the hole. From there, it's a matter of tamping the whole patch down. Some companies even use their trucks to handle this part.
Cold patches like this are not as durable as their hot pour counterparts. However, each patch will last for a couple of years, assuming there is no underlying foundation issue. It's great for everyone involved.
The process for this asphalt patch may seem simple, but many property owners will not DIY it. Asphalt maintenance companies already have a customer base for this service, so it's incredibly easy to start.
Ordering this by the half pallet is a perfect choice for entrepreneurs testing how this service works in their area. It's also suitable for people who work in a small area, though this stuff will not spoil in an office or warehouse.
Need more? Asphalt Kingdom sells whole pallets of this asphalt patch too!
Note: We are happy to offer FREE SHIPPING to the Continental United States (Alaska and Hawaii are not included; please call for a shipping quote.) Residential, limited access, lift-gate, and deliveries to remote areas will be subject to extra fees. An additional $150 per pallet is also required for West coast shipments - Arizona, California, Colorado, Idaho, Montana, Nevada, New Mexico, Oregon, Utah, Washington, and Wyoming.
Specification
Shipping Dimension
48" x 36" x 32"
Shipping Weight
1450 lbs
Customer Reviews
Top customer reviews
We could not be happier with our business relationship with Asphalt Kingdom. The products are top quality and the customer service is excellent. Thanks guys.

I started Wyoming Asphalt Repair with Asphalt Kingdom equipment and material. I am very impressed with the how great the equipment runs and how great the material works. Their customer service and sales team is top shelf!!