RY10 & 2,000 ft Deery Crack Filler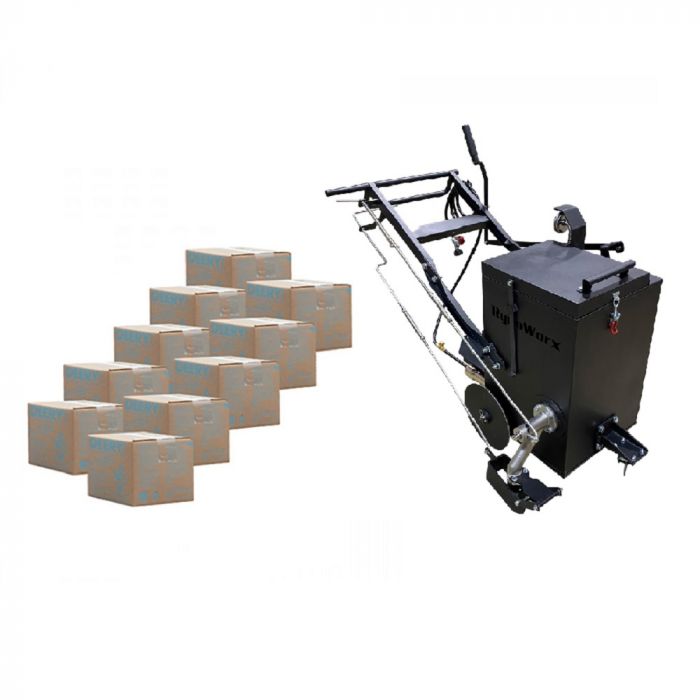 Add AK Make it a Biz Success Pack - Free With Purchase
Unlock your asphalt maintenance business's full potential with the AK Make it a Biz Success Pack, equipping you with expert-crafted tools and exclusive access to the AK Roundtable for accelerated growth and profitable opportunities.
Learn More

Make it a Biz Success Pack
This crack repair starter kit includes the machine and crackfiller to fill asphalt 2,000 feet of cracks.
Read more
Free Shipping on Equipment
Delivered in: 5-10 Business Days
Make It a Bundle
Start crack filling right away with this crack repair package. With our easy to operate RY10 two-in-one melting and application machine and 10 boxes of crack filler, you can seal about 2,000 linear feet of cracks. Designed for contractors and do-it-yourself'ers looking to get the job done right.
RY10 Asphalt Crack Repair Machine

Purpose

Melts cubes of rubber crackfill and applies it into asphalt cracks. Capable of melting and applying up to 700 pounds of hot pour crack filler per day (totalling approx. 6300 linear feet of 1/2" cracks). Heats 40 pounds of crackfill in under 7 minutes.

Features

No cleaning required.
Extremely easy to operate.
2 year Warranty on the melter, 1 year Warranty on the temperature gauge and torch.
One person operation.
Everything you need to do quality crack sealing (propane bottle not included).
Note: We are happy to offer FREE SHIPPING on our Crackfiller to the Continental United States (Alaska and Hawaii are not included; please call for a shipping quote.) Residential, limited access, lift-gate, and deliveries to remote areas will be subject to extra fees. An additional $150 per pallet is also required for West coast shipments - Arizona, California, Colorado, Idaho, Montana, Nevada, New Mexico, Oregon, Utah, Washington, and Wyoming.
How Much Crackfiller Will You Need?
Crack filler Calculator
Let us help you determine what you need.
Customer Reviews
Top customer reviews
I'm satisfied with it. Great products. Everything that I've purchased works great! It's worth Sharing!

I run your ry10 standard melter and it has been a great unit.

It is a wonderful product

It is a wonderful product, I love it, I used it twice already and it has saved me tons of money.

Je parle français et mon contact a cette endroit est Jennifer elle donne un super service merci beaucoup

Great Company with great products and service.

I would recommend Asphalt Kingdom to all in the Asphalt Asset maintenance industry.

After getting multiple quotes to seal my own driveway from between $1900-2800. (7000 Sq ft) I decided to buy this machine to fill the cracks and seal my driveway myself. Now I own the machine. Takes a good half an hour to get the crack filler melted nicely. Took about half an hour to build. Highly recommend for commercial or residential users.

Great Quality machine, but it does have one issue that keeps it from being a 5 star, the flame blows out very easily with a slightest of a breeze. I wish that Asphalt Kingdom would come out with a fix instead of offering a newer machine that address's this issue. Otherwise it's a good quality for the price machine.

Very nice product and super easy to put together! Shipped quick! Good quality powder coated parts! One part was damaged in shipping and was quickly replaced by action seal! It's maneuverability is awesome, the video on line doesn't do it justice it's easy to use!

No complaints! The products works great. Very happy with it.

I'm very satisfied with the RY10. It did everything that the sales people said it would do. I've never done that myself before. The machine was easy to use and having the 4 wheels is very stable and did a great job on my driveway. I have a driveway that's 350 ft. long and there's room for 6 cars at the top. It's quite an expensive driveway and it sits on the hill so every year and the ground moves and new cracks open up so there's always a lot of do in the spring so

Read more

this RY10 really fit the bill.

It is a wonderful product

It is a wonderful product, I love it, I used it twice already and it has saved me tons of money.

Great service! Expedited shipping quickly!

Great service! Expedited shipping quickly!

We have several large lots, the cost to have re-paved or sealed were astronomical. This machine and product are by far the most cost effective solution, I have no doubt the repairs will last for years.
I have also dealt with customer service a few times since I ordered RY10, for further orders. Each time they have been great to work with and very friendly.

we are very happy with the RY10. We were surprised and amazed that the machine was able to do that. we are surprised that it was very easy to fill the cracks using the RY10

The RY 10 arrived very quickly in two boxes - one 64 lbs and one 94 lbs. Solidly packed and no damage. I took my time to assemble it and it took about 2 hours from opening the boxes and it being ready to go.
I put in one block of filler and fired it up. And I mean fired it up. I had the burner up to about 5 ( just off the 0 mark) and it hit 400 ( red line) in about 10 minutes. I turned some of the paint white. I backed it to the two turns of the regulator ( as they said to do) and it dRead moreid take a bit longer, but it still melted nicely. I did repaint the damage with a high temp paint to keep it looking nice.

When I was done with the first half, I shut the unit down. It had filler in it, and the next day the tube below the valve was clogged as expected. When the filler was melted, I took the torch and lowered it a bit and used it to heat the valve and tube and it cleared in a few minutes.

I did make the mistake of pushing down on the handles when rotating the machine 90 degrees. That raised the foot and I dumped some filler. Let it rest on the ground.

I got this for home use/ maintenance so I need to roll over a lawn. The metal wheels of course sink in, so I used a dolly to move it.

Please understand that nothing said above is a complaint - just letting you know what I did. It worked great and saved me a ton of money and time.

Too be honest. Excellent service. Shipped and delivered in 48 hours. Couldn't ask for better service. Extremely impressed.

Fantastic product, and service. Pallets always arrive within days of ordering and the quality of the crack filler is superb. We order from Asphalt Kingdom exclusively.

We filled all the cracks in our parking lot surface at our dealership last year and things have held up great. Thanks for a great product and the support when we needed it.

My Central Texas ranch has about a half mile of asphalt paving badly in need of repairs. I purchased a 10 gallon kettle-applicator for asphalt crackfilling and found it to be a well designed and rugged unit - definitely worth the money.

Ordered a couple of boxes to test out the product and I must say that we loved it so much we ordered more. Thank you for the great service!

I recently bought a 10 gallon melter applicator from AK, and it is by far the best hot pour crack filling system on the market. I am now making $1.00 per linear foot when the cost is less the $0.08 per foot. This makes for outrageous earnings when you consider the amount of cracks you are filling per day!

If you are looking to increase your earnings quickly and very effectively than I suggest you take this tip and purchase one ASAP as I assure you, you will not be disappointed. Once you offerRead more

this crack filling service to your clients, do about 1 or 2 cracks for free and then ask the client if they would like you to do the rest of the cracks for a $1.00 per linear foot. They will not hesitate after viewing how efficiently this machine works and demand you to fill the rest of their cracks. An extra $50-$100 will be gladly spent by your customer.
Start your Asphalt Maintenance Business with the most in-demand service!
Looking at doing crack repair as a business? Make your success inevitable with these valuable add-ons, yours free with purchase at Asphalt Kingdom!
You get:
Role-Playing Video

with Judd Burdon: find out exactly what to say when you pitch your business to customers, and how to answer their most common objections.

Crack Filling Proposal Template

: a professionally designed form that you can fill in and print off — convert more business when you look pro from the get-go.

Customizable Social Media Templates

: swipe these great graphics and post them on your Facebook or Google My Business pages — get valuable leads with these proven templates!

Phone Script

written by Judd Burdon for you or your sales team to use when prospecting new business.

Exclusive Access to AK Round Table Meetings

: join us on a weekly Zoom call and get answers to any questions you have about your business.
You don't need to spend valuable time learning in the school of hard knocks — take advantage of the experience we've gained helping 1000s of clients start their own business.
Just click 'Make it a Biz' when you add this product to the cart, and we'll send you all of the above absolutely free. Welcome to your asphalt kingdom.
Customer Questions
How many linear feet does the crack fill cover?
6.7 linear ft of coverage per pound of crackfiller. This means you get 200 linear ft per 30 LBS box of crackfiller.
7,200 linear feet per half pallet of thirty six 30 LBS boxes
15,000 linear feet with a pallet including seventy five 30 LBS boxes.
What should the pavement temperature be to crack fill?
You can fill cracks as long as the pavement is 40°F or warmer. If it is colder but you need to fill cracks, use a heat lance to heat the pavement up before you apply it.
What temperature does the crackfiller need to be to flow?
The best temperature for heating your material to is 380 - 400°F (193 - 204°C) ; any higher than 400°F may severely damage product. Prolonged heating can also damage the product - heat it only when you are ready to apply it.
How long can I keep unopened crack sealant?
Our crack filler has a shelf life of 10 years unopened. It's why so many of our customers choose to take advantage our half-pallet and pallet offerings: the savings are so high it is worth storing them until you need them. It can be stored outside; just cover it with weather-resistant pallet wrap and keep it out of the sun.
I have left over tar in my machine. Is it okay to leave it there and reheat it at a later time?
Absolutely! You just have to heat it up again when you are ready to use it.
How soon can you drive on newly filled cracks?
As soon as the crackfiller comes down to ambient temperature - sometimes as soon as 30-45 minutes when it is hot, and more quickly in cooler temperatures. Test with a stick: if you push down on the crackfiller and the crackfill doesn't tack to the stick, you're good to drive on it.
After applying crackfill, how soon can you seal coat?
Whether you used liquid cold-pour crack filler or rubberized hot-pour crack filler, it is best to let the product dry completely before applying sealer. Depending on ambient and surface temperatures, the actual drying time of the crack fill can vary. We usually recommend allowing crack fill to dry for 24 to 48 hours before applying sealer.
How often should I clean my crack repair machine?
It's good to clean it out completely after 5 uses; otherwise there is a possibility of charring rubber in areas where there may be multiple layers of rubber built up.
To clean it, heat it up and scrape it out with a scraper on a broom handle. Then start fresh with a brand new box of crackfill.