Graco LineLazer 130HS Airless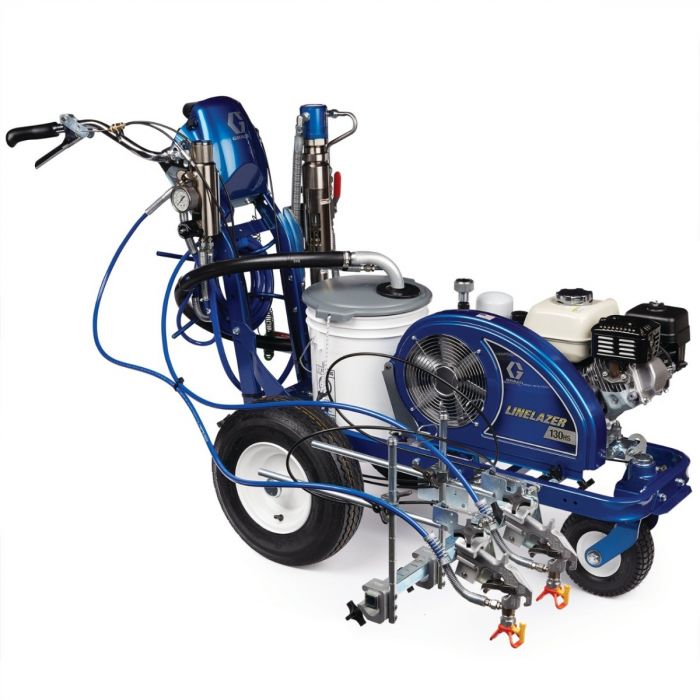 The LineLazer 130HS is the go-to hydraulic airless striping equipment because it regularly provides day-to-day striping performance with tested power.
Read more
Everyday striping capability The chosen hydraulic airless striping equipment, the LineLazer 130HS, dependably provides reliable performance with tested power, day in and day out.
Reliable, easy to start power
Easy pump maintenance and less clogging
Simple gun control
FREE SHIPPING
Availability: Out of stock
The most popular hydraulic workhorse airless striper for your most difficult applications is the Graco LineLazer 130HS. It works best with the majority of thick, low VOC, waterborne, and rubberized traffic paints. The continuous, heavy-duty line striping requirements can be met with this excellent entry-level hydraulic striper.
One of Graco's series of stripers' lesser models, the 130HS packs a powerful punch. The number of strokes the piston will make per gallon of paint sprayed makes utilizing a hydraulic unit preferable to a clutch-driven stiper. If it pumps more slowly, the piston will often survive longer. The hydraulic systems will pump much more slowly than the clutch drive unit.
EasyMark Gun Adjustment System
Easy Gun Modifications
A simple guide mark system ensures consistently accurate gun alignment
Equipped with a QuikSelect gun selection and 2-gun capability
EZ Align Front Wheel System
Outstanding Striper Tracking
No extra tools are required for a simple front wheel alignment
Multiple Comfort Handlebar System
Easily Adjustable Handlebars
QuikSelect Gun Selector
Modest Gun Control
using a single solid/skip lever to independently operate two guns
Honda® GX Engine
Dependable, simple to start power
Favored by contractors – superior power and established dependability
If the oil level gets too low, Oil Alert turns the engine down to prevent damage
Kit Includes:
2 x Flex Plus Gun
2 x LineLazer RAC 5 (LL5) 319 Spray Tip
2 x LineLazer RAC 5 (LL5) 421 Spray Tip
2 x RAC 5 Tip Guard
3/8 in x 6.8m (22 ft) BlueMax II Airless Hose
3/8 in x 0.9m (3 ft) BlueMax II Airless Whip Hose
4 oz TSL
Customer Reviews
Top customer reviews