Graco LineLazer V 3900 AutoLayout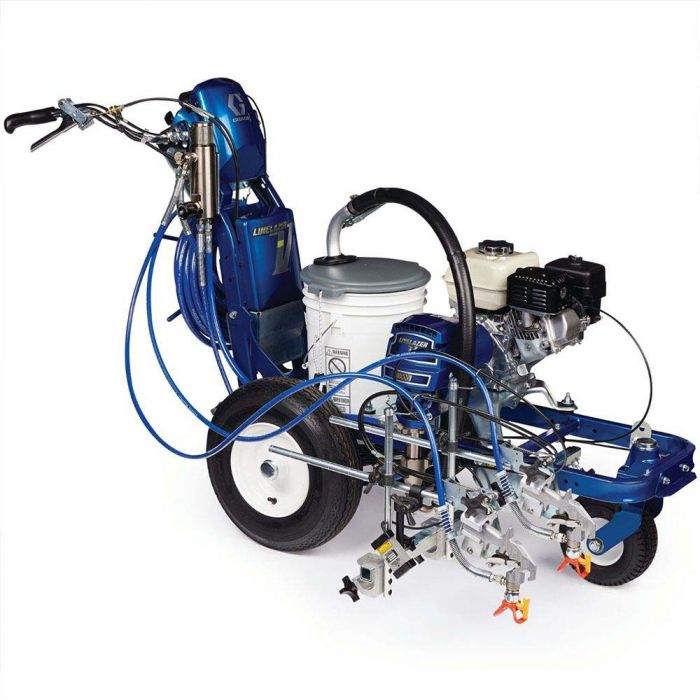 The Graco LineLazer V 3900 AutoLayout's enhanced features and advanced automatic controls will surely help increase your profit margin exponentially!
Read more
FREE SHIPPING
Delivered in: 5 to 10 Business Days
Have questions? We're here to help!

Speak to an Asphalt Expert!
Contact our Experts
The Graco LineLazer V 3900 AutoLayout is a technologically advanced airless line striping machine that lets you work smarter and not harder. As part of the HP Automatic Series, this line striper has additional enhanced features that help improve your output and increase your profitability.
Flex Plus Linestriping Gun
LineLazer SwitchTip and Guard for sharp lines
Fifty feet of ¼-inch hose
This automatic 2-gun line striping machine features adjustable gun positioning that allows you to adjust gun height up or down. Push button control on the left handlebar allows for automatic gun operation, while manual hand controls on the right handlebar allow for traditional gun control. Guns 1 and 2 have separate gun control buttons on the machine panel for easy programming. You can use gun 1 for a solid line and gun 2 for skips, or use both guns for easy dual-striping when you need to put down two lines, such as when striping double center lines on highways or roads. Pull-through bar attached on the undercarriage of the machine chassis allows you to mount the gun on one side of the striper or the other.
As part of the HP Automatic Series, the Graco LineLazer V 3900 AutoLayout comes standard with the LazerGuide 1700 which can be used as a pointer for layout work or mounted in the front of the machine to serve as a guide and show you where your lines are going to be while helping you keep them straight.
Auto-Layout II feature simplifies layout work by cutting down time spent laying down markers on the pavement. SmartControl allows you to put down pre-marks while you walk, completely eliminating the need for the old chalk and tape measure method.
LiveLook Display allows you to check striping information at a glance. Layout page features calculators that help you track and measure stall sizes and angles for a more precise calculation of paint volume and striping application. Settings screen allows for easy machine calibration.
J-Log System allows you to log how many gallons or linear feet of paint you'll need to spend on each job. The USB port can be used as a charging port for cellphones or to download when you need to provide proof-of-job data upon client's request.
This powerful machine is mounted with a Honda GX engine for a reliable, easy-to-start power. Oil Alert feature automatically shuts the engine down and prevent damage when oil level is too low.
Connect this LineLazer V 3900 to the Titan LazyLiner Elite using the Graco LineLazer Hitch, and you can convert this walk behind machine into a ride-on striper for larger areas, such as athletic fields or mall parking lots.
Paint Calculator
Let us help you determine what you need.
Have questions? We're here to help!

Speak to an Asphalt Expert!
Contact our Experts
Specification
| | |
| --- | --- |
| Compatible Material | Road Marking Paint |
| Compatible Surfaces | Pavement, Turf |
| SKU | 17H453 |
| Engine | Honda GX120 |
| Features | Auto-Layout II, Automatic Gun, J-Log Data Logging System, On-Board Power |
| Fuel Tank Capacity | 0.66 gallons |
| Gun Activation | Automatic |
| Includes | LazerGuide 1700, Flex Plus Gun (2), LineLazer RAC 5 319 Spray Tip (2), LineLazer RAC 5 421 Spray Tip (2), RAC 5 Tip Guard (2), 3/8" x 50' BlueMax II Airless Hose, 3/8" x 3' BlueMax II Airless Whip Hose, TSL, 4 oz |
| Maximum Flow Rate | 1.25 GPM |
| Maximum Sound Pressure Level | 86.5 db(A) |
| Maximum Tip Size | 0.025" |
| Maximum Working Pressure | 3300 psi |
| Model | LineLazer V |
| Number of Colors | One Color |
| Number of Guns | 2 |
| Number of Pumps | 1 |
| Overall Height | 44.5" |
| Overall Length | 68.75" |
| Overall Width | 34.25" |
| Power Rating | 4 HP | 2980 W | 2.98 kW |
| Power Source | Gas |
| Pump Type | Endurance |
| Series | 3900 |
| Type | Walk-Behind Line Striper |
| Weight | 240 lbs |
Customer Reviews
Top customer reviews