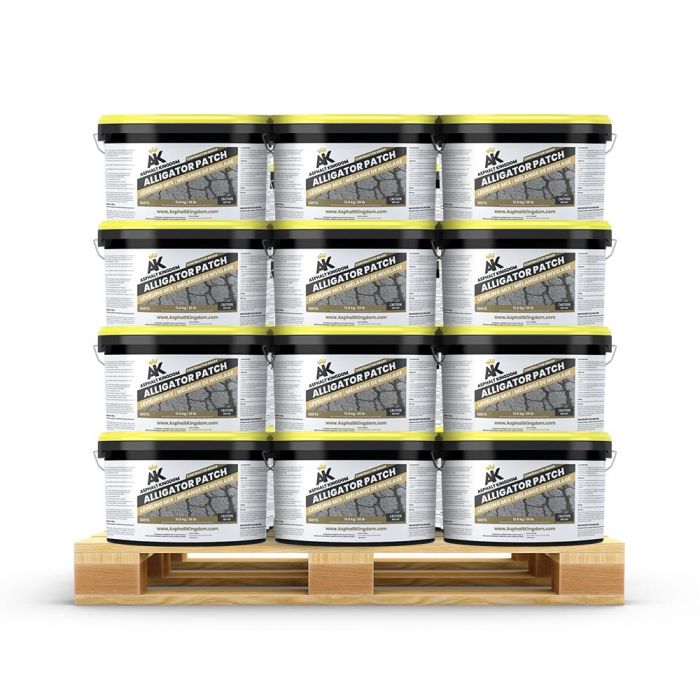 This product is not in stock in USA. If you'd like a quote on getting it delivered to you, please fill out your information.
The best alligator crack patching product on the market. Formulated to fix alligatored asphalt, damaged joints, and depressions in asphalt. Available in half and full pallets.
Pickup at our locations below or if you'd like it shipped to you please call 855-554-4386 to request a shipping quote.
Read more
Extends pavement life
Only needs a trowel to apply
Makes $6,000 per pallet
Add These To Minimize Your Effort!
Alligator Patch Special: Get $50-$100 off!
Buy a pallet of sealer or crackfiller and get $50 off a half pallet of Alligator Patch OR $100 off a full pallet of Alligator Patch while supplies last. Call in now to order: 1-855-554-4386
What Is Alligator Patch?
Alligator Patch, also known as the Gator Patch, is a semisolid asphalt patching product used to seal narrow and shallow cracks and joints. It can also be used to cover shallow depressions in asphalt pavement. You can use this to patch cracks with a width of up to 20 mm.
This product creates a smooth finish after application. It is applied using a simple trowel and left to dry and cure completely before the pavement can be used again.
Alligator cracks are just the beginning of the end of your asphalt pavement. That's why it's crucial to have them repaired before the cracks widen and the pavement's foundation deteriorates further. With Alligator Patch, you can rescue the cracked area and ensure that it will last a long, long time.
Each pail weighs 30 lbs. That's 720 lbs for the half-pallet and 1440 lbs for the full-pallet.
Alligator Patch Features
0.42 sq/ft per lb coverage rate
Earn $10/sq ft
Save money by buying full pallets vs buying 1/2 pallet at a time
Applying Alligator Patch on Cracked Asphalt
Here are the things you're going to need to apply Alligator Patch.
16" wire street broom
Leaf blower
Trowel
Traffic cones
Attention ribbon
Note: The minimum application temperature for this asphalt patching product is 10°C. Check the forecasts and make sure that it will not rain, or you're not expecting snowfall for the next 24 hours after application.
Alligator Patch is ready to use right out of the bucket; no thinning or dilution is required.
1. Clean the cracked area with a 16" wire street broom to remove loose asphalt, weeds, rocks, and other debris.
2. Uproot any stubborn weeds or use a heat lance to remove them. Use a leaf blower to get rid of dust and leaves.
3. Put enough Alligator Patch into the cracked area, and spread it all over using a trowel. Dip the trowel in a bucket of water frequently to keep it wet.
4. Patching a crack deeper than an inch? We recommend that you mix equal parts of clean aggregate and Alligator Patch. Add water until the mixture resembles the consistency of the original Alligator Patch.
5. Level the area with the trowel, making sure to leave a smooth surface.
6. Block off the area with traffic cones and an attention ribbon. Let it dry and cure for at least 24 hours before allowing the driveway and parking lot to be used again. Repeat the process if needed.
7. Use water to clean the damp trowel. You can also use petroleum-based solvents to get rid of dried Alligator Patch on tools.
8. Apply asphalt emulsion sealer after the area has cured completely.
Long-lasting Asphalt Patching Product
Alligator Patch can last up to two years in storage as long as it is in its original bucket. Make sure to store the product in a cool and dry place with temperatures ranging from 10°C to 40°C. Do not expose it to freezing temperatures.
Alligator Patch FAQs
How long does it take for Alligator Patch to dry completely?
The Alligator Patch should be allowed to dry for at least 24 hours under ideal conditions. The time to dry may vary depending on ambient temperature, humidity level and the amount applied.
What is the ideal outdoor temperature for using Alligator Patch?
Alligator Patch can be used down to 10°C. Check the forecast for possibility of rain, and don't use the product if the asphalt is wet.
How long does it take before patched asphalt can be sealed?
Asphalt sealer can be applied once the patch has fully dried and cured. Under ideal conditions, the patch can be sealcoated after 48 hours.
Specification
| | |
| --- | --- |
| Ready To Ship | Yes |
| Shipping Weight | 800 |
| Shipping Length | 48 |
| Shipping Width | 22 |
| Shipping Height | 36 |
| | |
| --- | --- |
| Shipping Dimension (L x W x H) - Half Pallet | 48" x 36" X 22" |
| Shipping Dimension (L x W x H) - Full Pallet | 48" x 36" X 40" |
| Shipping Weight - Half Pallet | 800 lbs |
| Shipping Weight - Full Pallet | 1540 lbs |
Customer Reviews
Top customer reviews
Customer Questions
How long do I have to wait until I sealcoat over it? With Water based? With Oil based?
2 hours for water based and 24 hours for oil based.
How long do I have to wait until I stripe over it? With Water Based? With Solvent based?
2 hours for water based and 24 hours for oil based.
Remove with trowel and use a trowel or push squeegee to apply to cracks in the same way you would grout the lines of a tile floor for example.
https://www.youtube.com/watch?v=ElOXarbZe84