Add AK Make it a Biz Success Pack - Free With Purchase
Unlock your asphalt maintenance business's full potential with the AK Make it a Biz Success Pack, equipping you with expert-crafted tools and exclusive access to the AK Roundtable for accelerated growth and profitable opportunities.
Learn More

Make it a Biz Success Pack
3 5-gallon pails of Gator Patch. Each pail covers 80-100 sq feet up to 1/4" deep, or 150 feet of 1/2" by 1/2" cracks.
Read more
Fix alligator cracks before they deteriorate into potholes. Save your asphalt with Gator Patch! Available in 5-gallon buckets and covers up to 20 square feet per gallon.
Rescues asphalt riddled with alligator cracks
Leaves a smooth and even finish
Only needs a squeegee to apply
Free Shipping to commercial address with a dock or forklift
Delivered in: 5-10 Business Days
Add These To Minimize Your Effort!
Fixing Alligator Cracks Has Never Been Easier Thanks to Gator Patch
Gator Patch is a great all-around asphalt patch that is ready to use right out of the pail. Get up to 20 square feet of coverage per gallon for alligatored areas, and up to 150 linear feet of 1/2" x 1/2" cracks.
Repairs severely decayed asphalt for less instead of cutting it out and replacing it.
Produces a smooth, new-like finish.
3 to 4-year lifespan.
Repair Alligatored Asphalt Easily
This alligator patch is an economic solution to heavily cracked asphalt—you no longer have to resort to a complete asphalt overlay or full replacement for multiple cracks. This product also doesn't require any heavy equipment; all you need is a squeegee for application.
What Other Customers Say:

"I'm satisfied with it. Great products. Everything that I've purchased works great! It's worth Sharing!"


Jody Forester




Regional Operations Manager, Stealth Oilwell Services, LLC
How to Fix Alligator Cracks with Gator Patch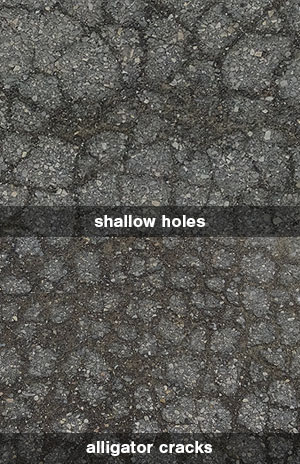 Gator Patch is an asphalt patching product, not a crack sealant, and is temperature-sensitive as most asphalt emulsion-based formula products are. This easy repair process allows you to have your repaired areas traffic-ready in 2-4 hours, given favorable conditions. It is important to not use asphalt patch when precipitation is in the forecast, when the asphalt is wet, or when the temperature will be below 50°F.
Simply prepare your asphalt as you would for any other task, then remove any dirt and debris from the surface. We recommend using our Asphalt Crack Cleaner Machine, Billy Goat Grazor or Heat Lance to get the best results.
After ensuring the asphalt is clean and dry, you can begin to apply the Gator Patch. Simply mix/stir the patch as per instructions, then pour some of the product onto the cracked asphalt and spread it across the alligatored asphalt using a squeegee. Remember not to spread the Gator Patch too thick in one coat. It should be spread in multiple layers otherwise, it will not always dry and cure out in a timely manner.
For wider cracks (1/2"-wide or more), make sure the patch is flush with the surface by using a squeegee to remove the excess.
Weather and humidity play a tremendous role in the setup. Always check the constraints and procedures for applying our original Gator Patch.
Protects in All Climates
Once Gator Patch is cured, the patch seals the asphalt against water and chemicals—even in low-lying areas and dips where water collects. It withstands any climate once cured.
We recommend sealcoating the surface 48 hours after the Gator Patch installation for improved durability. This product is compatible with coal tar asphalt sealer and regular asphalt sealer.
Protect from freezing.
After Use: Wash squeegee and all used tools with soap and water. If product has dried on the tools, use a solvent.
To Store: Do not store this asphalt crack patch in direct sunlight. Do not store in temperatures over 100°F. Container must be closed when not using. Keep out of reach from children.
Note: We are happy to offer FREE SHIPPING to the Continental United States (Alaska and Hawaii are not included; please call for a shipping quote.) Residential, limited access, lift-gate, and deliveries to remote areas will be subject to extra fees. An additional $150 per pallet is also required for West coast shipments - Arizona, California, Colorado, Idaho, Montana, Nevada, New Mexico, Oregon, Utah, Washington, and Wyoming.
Specification
| | |
| --- | --- |
| Ready To Ship | Yes |
| Shipping Weight | 200 |
| Shipping Length | 48 |
| Shipping Width | 36 |
| Shipping Height | 24 |
| | |
| --- | --- |
| Color | Black |
| Odor | Bland asphaltic |
| Weight per gallon @ 77°F. ASTM D1010, (lbs) | 9.60 ± 0.20 |
| Nonvolatile %, ASTM D2939 | 70.00 - 72.00 |
| Viscosity @ 77°F, ASTM D562 (Kreb's Stormer Unit) | 125 min. |
| Penetration (0.1 mm), ASTM D5 | Pass |
| Resistance to water, ASTM D2939 | No blistering, no re-emulsification |
| Ductility, 77°F 5 cm/min. cm., ASTM D113 | Pass |
| Flammability | Non-flammable |
| Shelf Life (yrs) | 1-2 |
| Cure Time | Dries for traffic in 2-4 hours in normal conditions; Cures completely in 24 hours. |
| Minimum Application Temperature | +50°F (DO NOT apply when rain or frost is forecast within 12 hours) |
| Application | Cold applied with squeegee |
| Clean-up | Water and soap. Use solvent for dried material. |
| Note | Coverage up to 20 sq. ft. for patching alligatoring areas and up to 150 linear feet of 1/2" x 1/2" depth cracks per gallon. (Coverage will vary, depending on size and frequency of cracks in alligatored areas." A second application of Gator Patch will give cosmetic benefits in terms of smooth, consistent appearance and virtually hiding the outline of the cracks in the alligatored areas. |
Customer Reviews
Top customer reviews
Crackfilling and Sealcoating are really simple

Everything is fine. It took me a little bit of a learning curve. The videos on the website are really helpful for a starter like me. I realize that Crackfilling and Sealcoating are really simple. You just need to get the right equipment for you. I'm happy with my purchase looking forward to doing more business with you in the future

I'm satisfied with it. Great products. Everything that I've purchased works great! It's worth Sharing!

More orders for Gator Patch

I'm happy with it. It looks like it's still good so I'm looking forward to order more in spring.

Gator Patch's working okay

It's working okay. The performance is good. All in all satisfied with the purchase.

No complaints! The products works great. Very happy with it.

Good Product But Definitely NOT Trowelable

I bought this to fix up some cracks and shallow depressions in my driveway. It did a great job BUT i had to use a squeegee to apply it. It is far too thin to stay on a trowel

We will continue to use it yearly with hope that the product will be improved to adhere better through development

Gator Patch has saved our parking lot from total deterioration. Although its adhering capabilites could be better, generally it holds the sections together until the freezing and thawing. It is a good value for the price and works better than other product.
Start your Asphalt Maintenance Business with the most in-demand service!
Looking at doing crack repair as a business? Make your success inevitable with these valuable add-ons, yours free with purchase at Asphalt Kingdom!
You get:
Role-Playing Video

with Judd Burdon: find out exactly what to say when you pitch your business to customers, and how to answer their most common objections.

Crack Filling Proposal Template

: a professionally designed form that you can fill in and print off — convert more business when you look pro from the get-go.

Customizable Social Media Templates

: swipe these great graphics and post them on your Facebook or Google My Business pages — get valuable leads with these proven templates!

Phone Script

written by Judd Burdon for you or your sales team to use when prospecting new business.

Exclusive Access to AK Round Table Meetings

: join us on a weekly Zoom call and get answers to any questions you have about your business.
You don't need to spend valuable time learning in the school of hard knocks — take advantage of the experience we've gained helping 1000s of clients start their own business.
Just click 'Make it a Biz' when you add this product to the cart, and we'll send you all of the above absolutely free. Welcome to your asphalt kingdom.
Customer Questions
How long does it take Gator Patch to dry when it's 60°F?
At that temperature, expect it to dry in 3-4 hours. It will continue to cure for another 24-48 hours, after which time you can sealcoat over it to help with durability.
Can I use Gator Patch to cover my whole driveway?
Gator Patch is just a patch, not a resurfacer. It is designed to patch areas with cracks up to 1" deep. You would save money if you use Gator Patch on alligator cracks then sealcoat everywhere else.
Can I put down sealer before gator patch? Do I need to seal the area treated with Gator Patch?
You can put them down in either order; however if you put the Gator Patch down first and then sealcoat over top of it for a more uniform finish.
How much Gator Patch should I apply?
It's like peanut butter on toast: you want a layer that covers pavement and seeps into the cracks, but not so thick that it's all Gator Patch and no pavement. The longer your strokes, the more visually appealing it will be when it dries. Use a hard trowel or a stiff squeegee to smooth it on evenly.
Can I use Gator Patch to fill linear cracks at the same time?
Rubberized Hot Pour Filler is a better solution for this problem because it has better expansion properties due to its higher rubber content. Rubber crack filler will expand and contract with heat and cold; Gator Patch does not have the same flexibility, so using it to fill cracks could allow moisture to seep into your asphalt's foundation.
How deep of a depression can Gator-Patch fill? I have some areas on my drive up to 3/4 inch deep from my car tires, will Gator-Patch fill these ok?
Rubberized Hot Pour Filler is a better solution for this problem because it has better expansion properties due to its higher rubber content. Rubber crack filler will expand and contract with heat and cold; Gator Patch does not have the same flexibility, so using it to fill cracks could allow moisture to seep into your asphalt's foundation.
Do I need a bonding agent?
If your pavement is extremely oxidized (meaning it is no longer black and is instead quite grey) it will need to be primed so that the gator patch sticks properly. If it's just regular black pavement, not too oxidized, then no bonding agent is needed.
How long can I keep unopened Gator Patch? Will it freeze if stored during the winter season?
Usually, you can keep unopened Gator Patch up to 2 years. After that long of a period, you have to mix it thoroughly. Ideally, store the Gator Patch around 50°F and not below 32°F as the product would freeze and would be no good.
Is it possible to apply Gator Patch on a dried new sealer job and then seal it again on top?
Yes, but allow a significant length of time for the fresh gator layer to harden before applying the new sealant.
What causes the Gator Patch to cure slowly over the course of a week?
Gator Patch is temperature-sensitive. When it is extremely hot, it reacts slower to cure as the humidity plays a major factor in the curing process. The heat also softens the gator film and tire marks will be present. After it cools down, the Gator Patch will harden.
Even with the hot weather, the Gator Patch will continue to absorb moisture from rain, and humidity for a short period of time.
We do not recommend applying the Gator Patch when there is a chance of rain as the asphalt will be wet and/or the temperature will be below 50°F.
Another factor is if the Gator Patch applied is thicker than the required specifications, it will also contribute to the slow cure time. It should be applied in multiple layers, as needed, to ensure that it dries and cures as quickly as possible.
How many square feet does it cover per bucket, 1/2 pallet and full pallet?
48 LBS pails = 20 sq ft per pail
How long do I have to wait until I sealcoat over it? With Water based? With Oil based?
2 hours for water based and 24 hours for oil based.
How long do I have to wait until I stripe over it? With Water Based? With Solvent based?
2 hours for water based and 24 hours for oil based.
Remove with trowel and use a trowel or push squeegee to apply to cracks in the same way you would grout the lines of a tile floor for example.
https://www.youtube.com/watch?v=ElOXarbZe84