PowrLiner 4500 Striping Machine with Smart Arm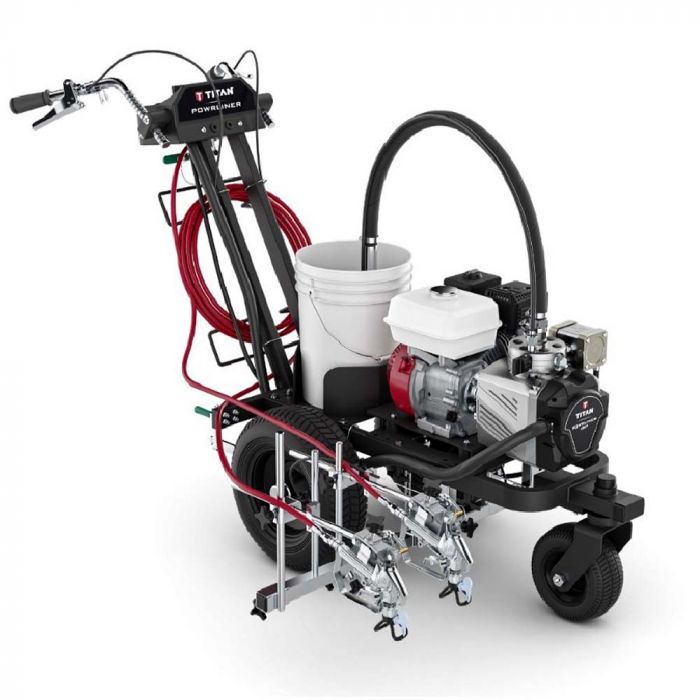 Add AK Make it a Biz Success Pack - Free With Purchase
Unlock your asphalt maintenance business's full potential with the AK Make it a Biz Success Pack, equipping you with expert-crafted tools and exclusive access to the AK Roundtable for accelerated growth and profitable opportunities.
Learn More

Make it a Biz Success Pack
Titan's newest line striping technology: The two-gun PL4500 is simple to operate and consistently produces fine lines. With 4-Year Warranty, the longest warranty in the industry!
For a Limited Time: Get 8 FREE Spray Tips with Go Red & Get More Rewards!
Read more
Get access to the newest line striping technology! Stencil or spray double lines with just one machine.
Stripes perfect lines
Water & oil-based paint
4-year warranty
FREE SHIPPING
Availability: Out of stock
PowrLiner 4500 Striping Machine

Applying sharp and clean lines on a parking lot is easier with the PowrLiner 4500 line striping machine. This paint striping machine is designed for established contractors who frequently service small to mid-sized properties. But this machine is not just for parking lots. It is designed for paint application and stenciling on asphalt and concrete pavements, as well as turf and sports fields. Compatible with Water-based paint and Oil-based paint.
4 Year warranty
Newest striping technology
Two guns for stenciling and painting
Ideal for mid-sized projects
The striping machine features fewer parts for reduced maintenance. It is equipped with PermaStroke Technology™, allowing you to apply paint at the right pressure without needing pistons, cylinders, and clutches that often need to be replaced when they wear out. Plus, the sealed hydraulic system does not come with parts that easily burn out.
You have different stripers working for you — that's why the unit is equipped with DeadLock Handlebars. This feature allows each user to adjust the handlebars according to their heights for a more comfortable line striping operation. With the DeadLock Handlebars, you can adjust it in or out, as well as up or down.
The PowrCenter™ dashboard allows you to reach and control the unit's pressure control knob and cup holder with ease. Painting lines on rough asphalt or uneven ground is a breeze with its 16" pneumatic tires.
Striping double lines? That's possible with the PowrLiner 4500's 2-gun design. And when it comes to stenciling, precision is key. That's why it is equipped with a removable gun to make stenciling easier and allow you to access hard-to-reach areas.
Priming the striping machine is easier with the Sureflo™ Pusher Valve. Plus, it comes with a FlatLine Pulsation Dampener™ for a more consistent paint pressure.
Equipped with a Honda® GX160 engine with convenient low oil alert. Product Warranty of 4 years, the longest warranty in the industry!
Includes:
2 spray guns
2 line striping tips
3 airless hoses of different sizes
SC-6+ 517 reversible tip
Titan's newest line striping technology: stencil or spray double lines with just one machine.
SmartArm™ Gun Boom
Upgrade to the pivoting SmartArm™ gun boom to make adjustments on the fly. This allows you to switch from parking lot lines to striping curbs in seconds. Take a look at how easy it is to adjust:
When you're done, the spray guns fold up on the PowrLiner 4500 SmartArm™ for easy storage and transport.
Want to work faster and more comfortably?
Go further and faster by adding a Titan LazyLiner Elite or Titan LazyLiner Pro self-propelling seat. Stripe lines on parking lots, athletic fields, warehouses, and more in comfort.
Specification
| | |
| --- | --- |
| Shipping Weight (PL4500-Standard) | 309 lbs |
| Shipping Weight (PL4500 with Smart Arm) | 313 lbs |
| Shipping Dimension | 69" x 37.3" x 49.3" |
| Weight-Empty Unit (PL4500-Standard) | 222 lbs |
| Weight-Empty Unit (PL4500 with Smart Arm) | 227 lbs |
| Dimension (Empty Unit) | 73" x 32" x 43.4" |
| Titan Model Number (PL4500-Standard) | 2407313 |
| Titan Model Number (PL4500 with Smart Arm) | 2407312 |
| Warranty | 4 Years |
| Engine and Power Source | Honda GX160 with Pull Start |
| Maximum Tip Size (1-gun) | 0.036" |
| Maximum Tip Size (2-guns) | 0.025" |
| Maximum Operating Pressure | 3300 psi (22.8 MPa) |
| Maximum Spraying Speed | 1.25 gpm (4.7 lpm) |
| Pump Drive | Clutchless Sealed Hydraulic |
| Airless Hose included - Gun 1 | 1/4" x 6' (1.8 m) |
| Airless Hose included - Gun 2 | 1/4" x 12' (3.7 m) |
| Airless Hose included - Other | 1/4" x 50' (15 m) |
Customer Reviews
Top customer reviews
Linestriping as a business? You bet! The secret that thousands of contractors from coast to coast know is that it's easy to make money in line striping as long as you know the tips and tricks below! If you want to get started in pavement marking as a business, click to add the Make it A Biz package to your order, absolutely free.
You'll get:
How To Sell Line Striping Video:

Judd Burdon helps you practice asking the right questions from your prospects and how to give them the exact services they need, even if they didn't know they needed them! He'll tell you the most common objections you might hear and exactly what responses put your prospects' minds at ease.

Get-The-Edge Phone Scripts

: If you have someone in the office making phone calls for you, you'll want them to use these powerful phone scripts to close more deals. Don't waste valuable dollars making calls that don't result in sales: increase your likelihood to close with these call scripts.

Digital Ads Pack:

Use these graphics to advertise your line striping business on Google My Business or Facebook. Customers will be inspired to use your services when they see these great ads — just add your logo, put your phone number in the description, and get your message out!

Line Striping Proposal Template

: Ever wasted hours trying to format a good looking template, only to give up and hand-write something that looks fly-by-night? Our professionally-designed proposal template helps you look great from the get-go. Just fill in a few blanks, print, and watch the sales come in.
Linestriping is a lucrative business that makes parking lots look great and keeps them ADA compliant. Add the Make it a Biz resources to your purchase and fast track your success in this industry!
Customer Questions
How To Set Up Your Line Striper | Titan PowrLiner 3500, 3500S, and 4500
How To Use Your Line Striper: Titan PowrLiner 3500, 3500S, and 4500 Application Tips
How To Clean Your Line Striper: Cleaning Your Titan PowrLiner 3500, 3500S, and 4500
What is the Smart Arm feature?
The SmartArm makes gun height adjustments repeatable and easy. It also pivots vertically, making it easier to transport the striper to and from your jobsite.
Can I use the PowrLiner 4500 with two guns?
Yes. The PowrLiner 4500 includes two guns, which operate independently or concurrently.
Can I use the PowrLiner 4500 with a LazyLiner?
Yes. By simply attaching a ball hitch kit to the line striper, you can add a ride-on LazyLiner driver - Pro or Elite, allowing you to complete jobs up to four times faster and increasing operator comfort.
The adjustable engine mount plate optimizes weight distribution of the engine and pump on the cart frame. Slide the mounting plate forward to make the cart more stable when driving with a LazyLiner. Slide back to make the cart more maneuverable in walk-behind applications.
What type of paint can I use with the PowrLiner 4500?
This can apply both latex (water-based) and solvent-based coatings.