TITAN PowrLiner 4955 Striping Machine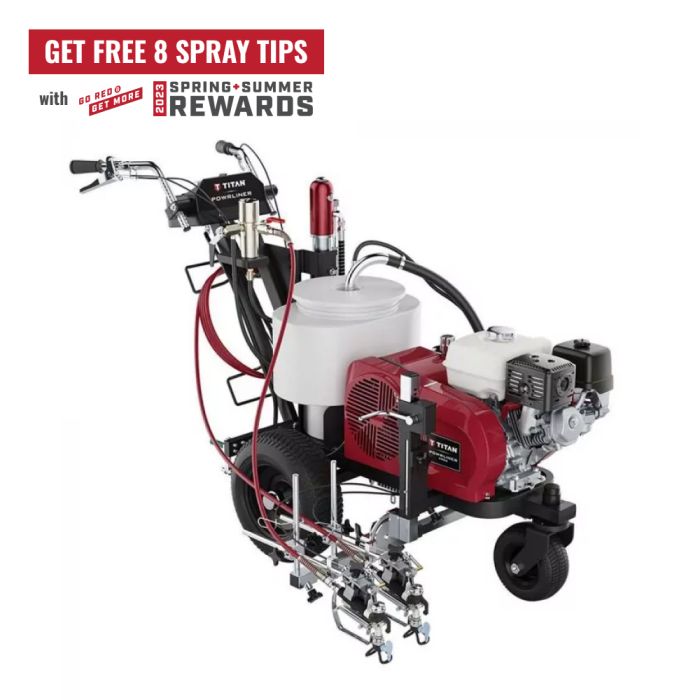 Add AK Make it a Biz Success Pack - Free With Purchase
Unlock your asphalt maintenance business's full potential with the AK Make it a Biz Success Pack, equipping you with expert-crafted tools and exclusive access to the AK Roundtable for accelerated growth and profitable opportunities.
Learn More

Make it a Biz Success Pack
Two-gun striper for fast painting and striping, perfect for medium to large scale striping on pavement or fields. With 4-Year Warranty!
For a Limited Time: Get 8 FREE Spray Tips with Go Red & Get More Rewards!
Read more
High-performance dual-gun line striper for easier and faster line striping and stenciling.
Powerful 3.5 HP Honda engine
Improved maneuverability
Sprays latex and oil-based traffic paints
Free Shipping to commercial address with a dock or forklift
Delivered in: 7 to 10 business days
Add These To Minimize Your Effort!
Titan PowrLiner 4955 Dual Gun Road Marking Machine with Power-Packed Performance

The Titan PowrLiner 4955 is a professional-contractor grade line striper. It includes a PowrCenter™ for controls and gauges right at your hands, SmartArm™ system for easy spray gun adjustments, as well as deadlock handlebars for user comfort, and a new swing-back stem design for greater maneuverability of the striper!
The new PowrLiner 4955 is built to work full-time on parking lots and athletic fields, making it a good choice for contractors doing medium and large-size line striping projects day-in and day-out.
Features
3.5 HP Honda with Pull Start ● 1.25 GPM ● 3300 PSI ● 0.033" Tip (max for 1-gun) and 0.025" Tip (max for 2-gun)
New PowrCenter™ with throttle control, pressure gauge, pressure control knob, storage tray, cup holder, and spray tip holder.
New SmartArm™ with pivot and lift systems to facilitate line adjustments and transportation/storage
New Deadlock Handlebars to adjust and lock handlebars into virtually any configuration
New Swing-Back Stem Design increases the ease to push and lift the line striper
HydraDrive™ is a smooth, slow-stroking hydraulic drive that provides extreme power and reliability
Includes S-3 spray gun and second gun kit
Includes anti-static hose (1/4" x 50' long)
Pneumatic tires for easy movement
Heavy-duty frame finished with epoxy for resistance to solvents and corrosion.
Hose rack stores up to 300 feet of hose
Paint Calculator
Let us help you determine what you need.
Specification
| | |
| --- | --- |
| Shipping Weight | 392 lbs |
| Shipping Dimensions (L x W x H) | 69" x 37.3" x 49.3" |
| Weight (Empty Unit) | 324 lbs |
| Dimension (Empty Unit) | 72" x 42" x 42" |
| Titan Model Number | 0290052H |
| Warranty | 4 years |
| Engine and Power Source | Honda GX120 with Pull Start |
| Gun(s) Included | 2 |
| Maximum Spray Tip Size - Gun 1 | 0.034" |
| Maximum Spray Tip Size - Gun 2 | 0.025" |
| Maximum Operating Pressure | 3300 PSI (max) |
| Maximum Spraying Speed | 511 linear feet |
| Pump Drive | Hydraulic |
| Airless Hose Included - Gun 1 | 1/4" x 50' |
| Airless Hose Included - Gun 2 | 1/4" x 6' |
Customer Reviews
Top customer reviews
Line striping as a business? You bet! The secret that thousands of contractors from coast to coast know is that it's easy to make money in line striping as long as you know the tips and tricks below! If you want to get started in pavement marking as a business, click to add the Make it A Biz package to your order, absolutely free.
You'll get:
How To Sell Line Striping Video: Judd Burdon helps you practice asking the right questions from your prospects and how to give them the exact services they need, even if they didn't know they needed them! He'll tell you the most common objections you might hear and exactly what responses put your prospects' minds at ease.
Get-The-Edge Phone Scripts: If you have someone in the office making phone calls for you, you'll want them to use these powerful phone scripts to close more deals. Don't waste valuable dollars making calls that don't result in sales: increase your likelihood to close with these call scripts.
Digital Ads Pack: Use these graphics to advertise your line striping business on Google My Business or Facebook. Customers will be inspired to use your services when they see these great ads — just add your logo, put your phone number in the description, and get your message out!
Line Striping Proposal Template: Ever wasted hours trying to format a good looking template, only to give up and hand-write something that looks fly-by-night? Our professionally-designed proposal template helps you look great from the get-go. Just fill in a few blanks, print, and watch the sales come in.
Access to the AK Round Table: Want to join a group of like-minded people on a journey to build their own asphalt maintenance empire? Get access to our weekly Zoom meeting and get answers to your most pressing questions.
Line striping is a lucrative business that makes parking lots look great and keeps them ADA compliant. Add the Make it a Biz resources to your purchase and fast track your success in this industry!
Customer Questions
I would like to know if I need to clean the spray gun with mineral spirits before using it?
With a new Titan machine, it's a good idea to flush the entire system and gun with mineral spirits before using it. If using latex/waterborne paint, flush with soap/water before you pour paint into the 5 gallon pail.