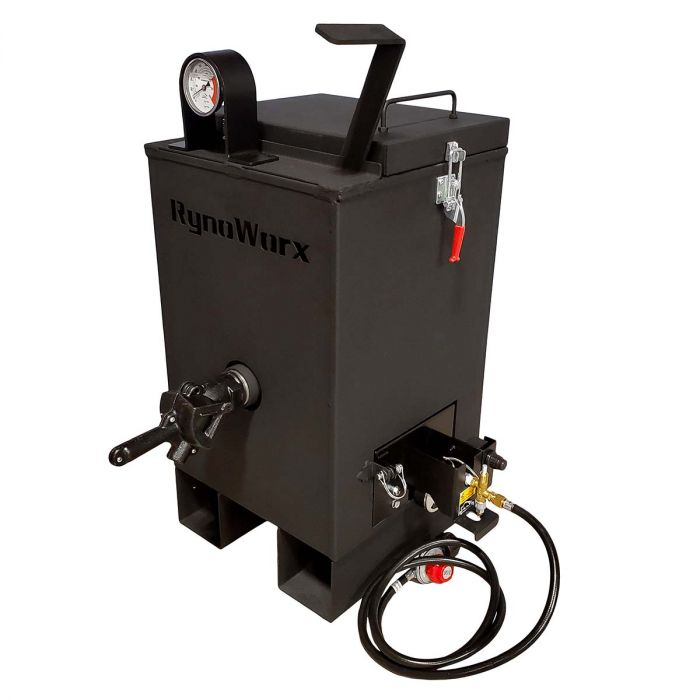 Add AK Make it a Biz Success Pack - Free With Purchase
Unlock your asphalt maintenance business's full potential with the AK Make it a Biz Success Pack, equipping you with expert-crafted tools and exclusive access to the AK Roundtable for accelerated growth and profitable opportunities.
Learn More

Make it a Biz Success Pack
Industry-first halo burner melter kettle designed to melt rubber crack filler for filling asphalt cracks. Bolt it to a truck or trailer, or carry it around your jobsite.
Read more
FREE SHIPPING
Delivered in: 7 to 10 Business Days
Add These To Minimize Your Effort!
Have questions? We're here to help!

Speak to an Asphalt Expert!
Contact our Experts
Safer, Faster Crack Filling Operation with the RY10MK Pro Melter Kettle
If you're looking for a faster, safer, cheaper way to melt hot rubber crack filler anywhere on the job site, this is your melter. The RY10MK Pro Portable 10-Gallon Kettle is designed to be attached to a trailer or truck, or you can put it on a skid and move it around the job site as you work.
SAFER: Flame-out Sensors means no dangerous backflashes or flame-outs commonly caused by wind. Plus, it is full equipped with CSA/UL approved regulator to provide precise control over fuel flow to the kettle.
FASTER: Single halo burner melts crack filler 50% faster compared to traditional torch melters.
TOUGHER: Steel design means virtually no maintenance.
The RY10MK Pro uses a unique, patent-pending sealed burner design that melts 50-pound bricks of hot rubber crack filler much more quickly - and more evenly - than torch-fired models. Because the burner is sealed, you can kiss flame-outs goodbye. What's more, it uses less fuel than traditional melter-applicators too - 35-50% less fuel, depending on ambient temperature. Time saved = money in your pocket!
The burner has another great feature - an automatic flame-out sensor. This means that should the flame go out for any reason, the RY10MK Pro will stop fuel from flowing to the burner. No more dangerous build-up of propane waiting for the next person who tries to light the machine - and no more wasted propane, either!
Lighting a melter has never been easier. The RY10MK Pro has an electric push-button ignition so you never have to fumble around for a striker or lighter again.
The kettle also has a UL-approved regulator and fuel lines, so you know that you'll have complete control over the amount of fuel that's going to the burner at any point. It's also got an insulated spacer between your propane cylinder and the heat of the kettle, which means a longer-lasting tank.
This machine includes a glycerine-filled thermometer for longer-lasting, precise readings. Use the sturdy molasses valve on the side to dispense crack fill to your pour pot once it reaches temperature.
RynoWorx powder coated this machine inside and out so it will last. It's been tested to work optimally at temperatures from -13°F to 104°F. Expect to get enough material melted to cover approximately six hundred feet of hot pour rubberized crackfill per hour using this machine and a bander.
The RY10MK Pro rethinks the way crack repair equipment should work. If safety, speed, and savings are on your requirement list, this is the right machine for you.
Crack filler Calculator
Let us help you determine what you need.
Have questions? We're here to help!

Speak to an Asphalt Expert!
Contact our Experts
Specification
Fluid Capacity
10 US Gallons
Kettle Steel Thickness
14 gauge
Assembled Dimensions
24.9" x 22.0" x 38.0"
Empty Weight
125 lbs / 56.8 kg
Max Capacity Weight
223 lbs / 101.4 kg
Fuel Type
Propane
Max Fuel Pressure
5 psi
Burner Type
50,000 BTU/hr
Cast Iron Sealed Burners
Valve Type
2" Molasses Valve
Agitation Type
Manual
Manual

Download the Manual
Customer Reviews
Top customer reviews
Very professional and courteous. Got product quickly at a fair price and it works great. Highly recommended

The customer experience with Action Seal is like no other. The staff is extremely knowledgeable with everything from product specifics to business advice. Overall incredible experience and incredible products.
Start your Asphalt Maintenance Business with the most in-demand service!
Looking at doing crack repair as a business? Make your success inevitable with these valuable add-ons, yours free with purchase at Asphalt Kingdom!
You get:
Role-Playing Video

with Judd Burdon: find out exactly what to say when you pitch your business to customers, and how to answer their most common objections.

Crack Filling Proposal Template

: a professionally designed form that you can fill in and print off — convert more business when you look pro from the get-go.

Customizable Social Media Templates

: swipe these great graphics and post them on your Facebook or Google My Business pages — get valuable leads with these proven templates!

Phone Script

written by Judd Burdon for you or your sales team to use when prospecting new business.

Exclusive Access to AK Round Table Meetings

: join us on a weekly Zoom call and get answers to any questions you have about your business.
You don't need to spend valuable time learning in the school of hard knocks — take advantage of the experience we've gained helping 1000s of clients start their own business.
Just click 'Make it a Biz' when you add this product to the cart, and we'll send you all of the above absolutely free. Welcome to your asphalt kingdom.
Customer Questions
How to re-seat the thermocouple?
This video
shows you step by step how to re-seat the thermocouple when experiencing unexpected flame-outs from the melter applicators or melter kettles.
I have left over tar in my machine. Is it okay to leave it there and reheat it at a later time?
Absolutely! You just have to heat it up again when you are ready to use it.
How soon can you drive on newly filled cracks?
As soon as the crackfiller comes down to ambient temperature - sometimes as soon as 30-45 minutes when it is hot, and more quickly in cooler temperatures. Test with a stick: if you push down on the crackfiller and the crackfill doesn't tack to the stick, you're good to drive on it.
How often should I clean my crack repair machine?
It's good to clean it out completely after 5 uses; otherwise there is a possibility of charring rubber in areas where there may be multiple layers of rubber built up.
To clean it, heat it up and scrape it out with a scraper on a broom handle. Then start fresh with a brand new box of crackfill.