96" FHWA/DOT Turn Arrow Stencil 2-pc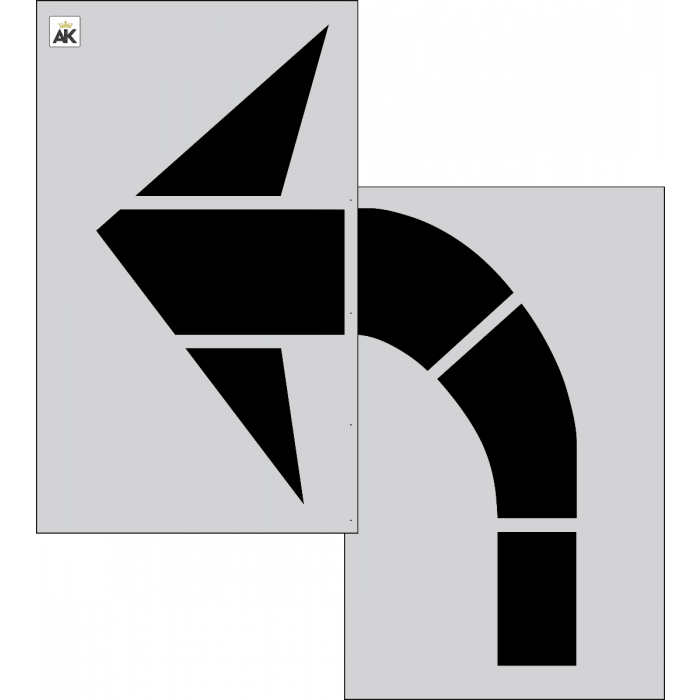 96 FHWA/DOT Turn Arrow Stencil

Read more
The 96" FHWA/DOT turn arrow stencil is a standard arrow designed for publicly accessible roads, driveways, and highways. The specifications of this stencil comply with FHWA standards, and is designed to offer a bold and visible design against the pavement. The stencil was released as a modified version of a standard arrow, offering spaces between the arrow's shapes to be more easily seen by oncoming traffic. Drivers and pedestrians from a distance will be able to easily see the arrow as they approach the lane, and it can give clear direction on which way to turn. The stencil is made in the USA and offers a warranty that guarantees it to be free of any defects or impediments that could hinder its use in any way.

There are four stencil grade options available for the make of your stencil. The .080 ALU is the thickest grade, and is made of a 5052 aluminum that lasts forever. The ?" PRO-Grade LDPE is the industry standard, offering a durable and affordable material that most common stencils are made out of. With this material, you can use and abuse the stencil for several years without need of replacement or repair. The 1/16" LDPE is the counterpart to the PRO-Grade but with half the thickness, offering flexibility for custom jobs. The .030" HIPS is ultra thin, offering the most flexible material available. This common PVC material is often used in the industry for small time or one-time uses.

The measurements and specifications of each stencil comply with industry standards and are Federally approved for use on public roadways. When painted, the stencil measures 72" in width by 96" in height, offering a tail stroke of 12" to make a bold and lasting statement against the pavement. The material itself measures 43" in width and 80" in height for the arrow head, and 48" in width by 77" in height for the turn tail.
Specification
| | |
| --- | --- |
| Ready To Ship | Yes |
| Stencil Name | Turn |
| Stencil Height | 96" |
| Stencil Width | 66" |
| Stencil Type | Directional Stencil |
Customer Reviews
Top customer reviews
Customer Questions
are these one time use? or can they be cleaned and used multiple times?
Most contractors clean them and use them a few times. If you are rough with stencils in general, it is possible they would crack on the first go but in general that hasn't been our experience. If you're looking for something with more reusability, we can provide a heavy-duty version of these - just let us know.