Billy Goat Force 13 Wheeled Blower - F1302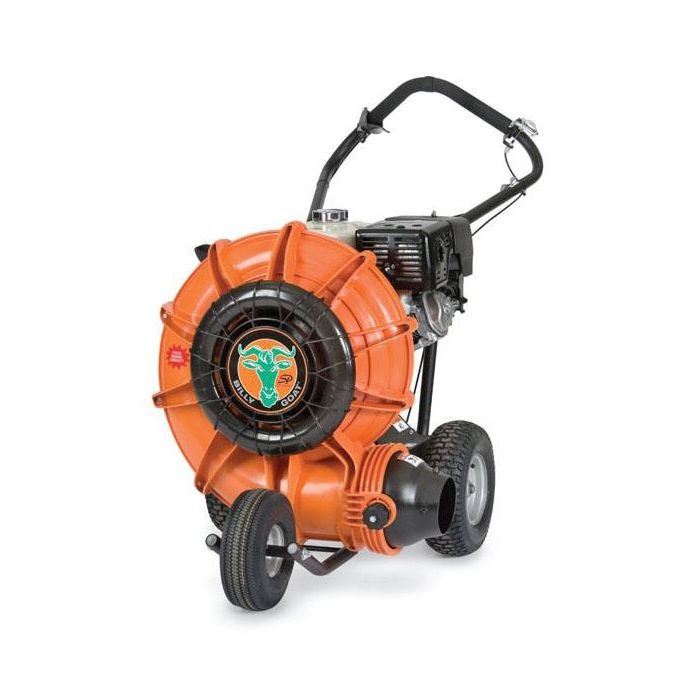 This product is not in stock in USA. If you'd like a quote on getting it delivered to you, please fill out your information.
Equipped with a 13Hp 393cc Honda Engine, the F13 blower is ideal for Contractor / Municipal scale jobs. Call (855) 554-4386 to order!
Read more
The Billy Goat Force 13 Wheeled Blower is a favorite among full-size landscapers, seal coaters, and pavement maintenance contractors. With its 13 HP Honda engine, this blower is ideal for large ranches, parks, cemeteries, resorts, schools, golf courses, estates, and other properties where there are vast volumes of fallen leaves and other forms debris that would take a lot of time to clean up.
With Billy Goat's patented Aim N Shoot™ technology, you can use the handlebar lever to adjust the nozzle direction and have full control of aiming exactly where you need to. Aim high, mid-level, or downward depending on surface terrain, or lock the nozzle in place with the built-in locking pin when working on leveled surfaces. In addition, this blower's streamlined rounded housing does not rust or dent, so you are assured that your machine will endure even the most rigorous cleaning jobs.
The Force 13's 16-blade single shot closed fan has twice the number of blades than that of competitors. This design eliminates air voids while dispensing an air velocity output of 200 mph (322 kph), so you only get a smooth, powerful airflow that can fully maximize your work time!
Pneumatic tires (two at the rear and one in front) enhances the blower's stability while minimizing shaking and wobbling on uneven terrain. The thick treads on pneumatic tires deliver more traction so the machine doesn't easily swerve or teeter even when in use.
Quieter engine operation (compared to most push or backpack-type blowers) makes the F13 blower ideal to use even in sites that require silence, such as near hospitals and on church grounds.
Select from two Force 13 model types to suit your preference:
The model F1302H (Honda) weighs 152 lbs (69 kg) and can be operated manually by pushing.
The model F1302SPH (Honda) weighs 173 lbs (79 kg) and comes with a pre-installed self-propelling control lever so you can let the machine do the cleanup work while you take care of other surface prep tasks.
Specification
| | |
| --- | --- |
| Ready To Ship | Yes |
| Shipping Weight | 152 |
| Shipping Length | 58 |
| Shipping Width | 28.50 |
| Shipping Height | 45 |
Velocity (mph): Just under 200
Fan Material: 17 16-blade Single Shot Composite
Discharge (in): 5
Displacement (cc): 393
Weight (lbs): 152 (F1302H); 173 (F1302SPH)
Length (in.): 58
Width (in.): 28.5
Height (in.): 32.5 (housing), 45 (handle)
Front Tire Size (in.): 10 x 3
Front Tire Style: Pneumatic
Rear Tire Size (in.): 13 x 5
Rear Tire Type: Pneumatic
Customer Reviews
Top customer reviews