2' Infrared Asphalt Heater - RY2X2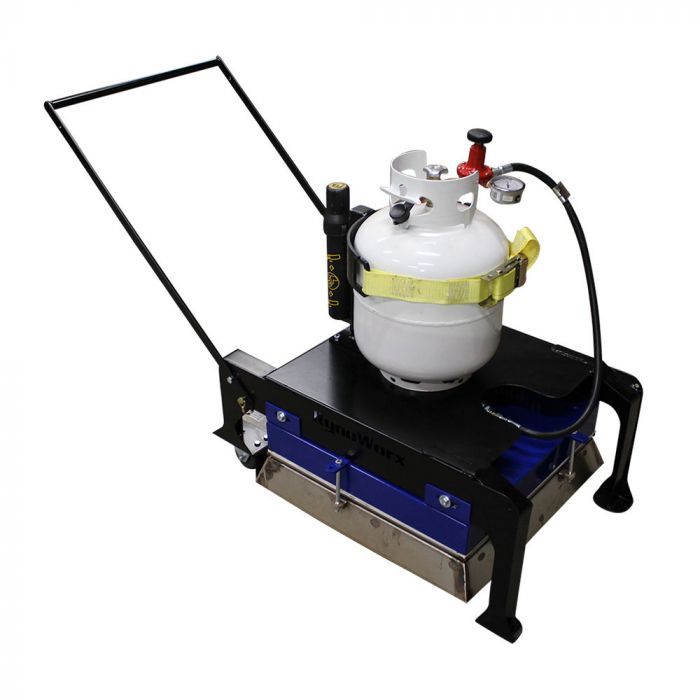 Add AK Make it a Biz Success Pack - Free With Purchase
Unlock your asphalt maintenance business's full potential with the AK Make it a Biz Success Pack, equipping you with expert-crafted tools and exclusive access to the AK Roundtable for accelerated growth and profitable opportunities.
Learn More

Make it a Biz Success Pack
Reheat, don't replace! Save money, save time, and save the environment with this innovative asphalt heater.
Read more
Incredible business opportunity to make $400+/hr repairing potholes, asphalt seams, and asphalt aprons.
Runs for as little as $1.50/hr
Repair potholes in 15 minutes
1-year warranty
Free Shipping to commercial address with a dock or forklift
Delivered in: 5-10 Business Days
Make It a Bundle
Heat Asphalt in Less Than 10 Minutes with the RY2X2 2' Infrared Asphalt Heater
Small potholes (basketball-sized or less)?  Asphalt Seams? Drainage repairs?  Alligator cracking?  You don't need to replace the asphalt - you can reheat and rejuvenate it!  Oil spots eating away at your asphalt surface?  Burn them off with the infrared heater and you'll preserve pavement and improve the look, too!
Safely regulate your heat.
Repair 4 sq. feet on under 15 minutes.
No need for large quantities of asphalt to repair small areas. Simply heat, rake, compact, and go.
What Other Customers Say:

"We're working on a project at the Super Walmart in Charleston South Carolina, and I just wanted to take a minute and let you know how impressed I am with this little infrared machine. We are currently using it as part of a larger project we have underway here. There was some patching and Walmart Management had some concerns about possible trip hazards up near the building. Were using our little infrared machine to take down those trip hazards rework that asphalt and make it seamless where it joins the existing asphalt right up by the building to eliminate the trip hazards. This is a great little machine and I look forward to getting a bigger machine for bigger projects. I'll send you some photos. All the best!"


Kenneth Evans




Owner, Asphalt Repair LLC
How does it work?
The RY2X2 Infrared Asphalt Heater is easy to use:  simply place it over the distressed asphalt point, light the self-contained burner, and in as little as five to 10 minutes, this heater will have the asphalt brought back to its original mixing temperature.  Remove the machine, rake the asphalt into place, compact the asphalt with a vibrating plate or plate compactor, and you're all done!
In the past, you'd have to drive to the asphalt plant, buy new asphalt, dig up the old asphalt, replace it, and then figure out where to dispose of the old asphalt . . . all of those steps are eliminated now!  Just wheel it into place, light it, and you're halfway done!  The unit weighs just 90lbs and features heat-shielded caster wheels, so you can operate it with just one person - no crew needed to move it.
This unit is built to last: the frame is 11 gauge steel, and the stainless steel and ceramic heater cartridge has an average lifespan of 1,500 hours.  
The RY2X2 uses actual infrared heating (not blue flame heating) through a ceramic mesh cartridge. This provides the best heat distribution of any heater in its class.
Like all RynoWorx products, this unit puts safety first.  No open torch flame that can blow out or leak propane on the job.  And the regulator with a built-in pressure gauge means you always know how much fuel is flowing so you can turn the heater temperature up or down.
How can you make money with this? You can do asphalt repairs all year-round, but especially for emergency winter pothole repair. 
Specification
| | |
| --- | --- |
| Ready To Ship | No |
| Shipping Weight | 120 |
| Shipping Length | 36 |
| Shipping Width | 26 |
| Shipping Height | 20 |
| | |
| --- | --- |
| Heating Area | 24" x 24" |
| Frame Steel Thickness | 11 Gauge |
| Kettle Loading Height | 17.5" |
| Assembled Dimensions | 45.1" x 23.0" x 38.4" |
| Weight | 90 lbs / 40.9 kg |
| Fuel Type | Propane |
| Max Fuel Pressure | 35 psi |
| Burner Type | 75,000 BTU/hr Infrared |
| Heater Cartridge | Stainless Steel and Ceramic |
| Shop for Replacement Parts: | |
Customer Reviews
Top customer reviews
I purchased this machine to add services to my sealcoating business on the Eastern Shore of Maryland. Overall the price point is great. The machine works well heats up quickly and does its job. Where I am not impressed is the quality of the machine upon taking it out of the box reading the manual putting together the few bolt-ons. I noticed the front legs were bent and the machine rocks. This is a liability for not only my crew but my business. For the money spent I would have expected this to n

Read more

ot been an issue clearly coming from the factory it should have never passed a quality test overall just not happy with the quality. Price, value, and overall working components are great!

We're working on a project at the Super Walmart in Charleston South Carolina, and I just wanted to take a minute and let you know how impressed I am with this little infrared machine. We are currently using it as part of a larger project we have underway here. There was some patching and Walmart Management had some concerns about possible trip hazards up near the building. Were using our little infrared machine to take down those trip hazards rework that asphalt and make it seamless where it jo

Read more

ins the existing asphalt right up by the building to eliminate the trip hazards. This is a great little machine and I look forward to getting a bigger machine for bigger projects. I'll send you some photos. All the best!

Easiest money I've ever earned

Asphalt Kingdom rocks it man. my name is Dave. owner and operator of trim Reaper lawn and garden. I recently purchased some high-quality equipment from Asphalt Kingdom.
I easily learned how to operate the equipment by watching their quality instructional videos. My first contract was a homeowners association that needed 50 potholes repaired in their subdivision to make the road viable again. worked on it for about 6 hours a day for 3 days. made myself $5,000 on my first job minus the taxes. I&Read more#039;m in negotiations for a $20,000 contract in a state park.
Asphalt Kingdom has wonderful employees and awesome service.

Thank you everybody at Asphalt Kingdom, easiest money I've ever earned.

signed Dave Mills aka the trim Reaper

AK has some of the best if not the best customer support. I have purchased Courses, Equipment, and Material from them. Everything has been top of the line, and the Value gained just from access to the AK round table is priceless. If you're on the fence about any purchases do not hesitate to speak with a representative.

Topnotch company, Quality materials and equipment

Asphalt Kingdom is a topnotch company that helps and trains aspiring entrepreneurs to successfully establish a pavement asset management business. The company sells quality materials and equipment required for such services backed by excellent customer support and warranty. The staff are very professional and are technically advanced. Judson Burdon is a great resource and one-stop solution for all our needs. We are a happy and proud customers of Asphalt Kingdom.

I freaking love this thing

First Impression of the Little Infrared Judd Burdon is selling!

I freaking love this thing for what it is. For smaller repairs, this thing kicks Ass I'm my opinion! Only thing I may do different would be to have wheels on all 4 corners. This thing is great!

Excellent equipment. For medium pothole repair tools

I cannot begin to express how handy the ry2x2's are! Definitely a time saver for us!

This baby is perfect for small hard to get areas

This is the cats meow, if you have gray millings, this makes them like new, stick like glue, easier to use. It's the easiest way to make the job easy and look like you are a pro.

Five stars is hardly enough!

Not one to give a review… every! This man behind asphalt kingdom is truly an inspiration. Someone willing to help at any level of your business. We've purchased an inferred heater off of AK and the help has been endless. Thank you Judd and crew for pushing us to the next level. Five stars is hardly enough!

My experience doing business with asphalt kingdom was second to none Glenn Teano is my salesman. I was approved for $20,000 in financing and I put a whole list together of all types of things that I needed. But I wanted to take it slow put a little bit and now a week later a little bit more. He was great with that not pushy not trying to rack up my credit line just to make a sale. He took his time explain things to me when I had questions he had all the answers. I just can't say enough about thi

Read more

s company after two weeks I've received half of my order and it's all Bill very very well top quality equipment thank you Asphalt kingdom.

The seamless repair sells itself

I was able to use it and did not have any issues. I think it was great and did its purpose. I'm happy I purchase them!

Great machine, very fuel efficient, relatively easy to maneuver

This machine works great. It ran for 7 straight hours on 2/3 full propane tank. Heats very well, about 8 minutes at 38 psi worked for me. Very compact size. I can easily fit it in my trailer. Also, it seemed to cool down very quickly. The outer metal stayed hot for a while, but the blanket underneath cools off much quicker. 10 minutes after I was done I put it in my wood floor trailer with no problems.

A few minor issues:
I feel that the wheels could be a bit larger. Also the handle doesnRead more't lock into place completely; has about 2 inches of movement when locked in upright position. Not a huge issue, just would make moving it around a little easier. Also the hardware(4 nuts and bolts for propane mount) needs to be packaged better. Most of the hardware was missing because the shipping company damaged the box and they fell out because they were loose in the box. I had hardware to replace it so it was no problem.

Overall, great machine. I will be buying another one.

Fantastic customer service

Fantastic customer service with expert knowledge and advice. Highly recommend this company for anyone looking to get into the asphalt maintenance business.

Works perfectly. Even in the cold. This ones gonna bring in the cash.

This IR machine is fantastic.

This IR machine is fantastic. Great value for money all contractors must have this for sure.

This is a fantastic piece of patching equipment.

I pre-ordered one of these for my business and after it arrives it sat for a few days before I took it out for its first use. It comes about 95% assembled and its very well packaged.
It's really sturdy too. Operation is easy too. You simply open the gas, set the regulator to 12psi and stick a torch under it for a few seconds to ignite it. A=Once lit, crank the pressure to 30psi and let it cook the spot you want to patch for about 10 min. Scarify the surface, add HMA if needed, smootRead moreh and compact. That's pretty much it.

This really is a great patching tool and it works just like the sales demonstration video says and shows. This thing will earn its keep with us very fast. Everyone on my crew that has used it so far loves it. We're now shopping larger IR units. If you're in the business and you're on the fence about this, do yourself a favor and get one. You'll be glad you did. I know I'm glad I did.
Wondering how you can make money all winter long — even when it's snowing outside? Welcome to the lucrative world of pothole repair!
It's a fact: large companies won't come out to fix one or two potholes on a driveway or parking lot. Great news, my friend — there are riches in those niches! Pick up an RY2x2 Machine and click the Make it a Biz box to get these great resources which we'll happily include with your purchase.
Video Guide to Selling Pothole Repair as a Service:

Judd Burdon walks you through how to find business, approach pavement asset owners, and land deals doing lucrative pothole repairs.

Call Scripts

: Too shy to go in and see a property owner? Get the Asphalt Kingdom Phone Script to use when calling and convert more customers. You'll have them at 'hello'.

Facebook Ads

: Use these gorgeous graphics to grab attention and get business! We've designed these social media ads so you just have to add your logo and post. Yours free when you add the Make it a Biz add-on to your purchase.

Pothole Repair Proposal Template

: Look like you've been in business forever even if you're just starting out. Our polished pothole proposal template helps your customers feel confident that you are a professional. Just fill in the blanks, print or email!

Pricing Guide

: There's nothing worse than working hard all day and just breaking even or worse — not making any money at all! Use our guide to anticipate unforeseen expenses and make sure you are charging what you deserve for the work you are going to do.

Invitation to the AK Round Table

: Our weekly Zoom meeting is the place to gather with other entrepreneurs just like you who want to start a business. Ask your questions and learn from others on the same path.
Pothole repair is profitable and you can reap the rewards doing it full time or as a side hustle. Just click on the checkbox to Make it a Biz!
Customer Questions
How long can a full propane tank last if I will use my RY2X2 the whole day?
A 20 lb. propane cylinder should last on average between 7 and 11 hours depending on the operating pressure and ambient conditions.
Does the RY2X2 use actual infrared or blue flame?
The RY2X2 infrared heater uses actual infrared through a ceramic mesh cartridge. It provides the best heat distribution of any heater in its class.
When using the IHR RY2X2 during cold weather (winter season), the pressure drops and not heating up to a working temperature, or the pressure not passing 20 psi.
The unit runs on pressure from the propane tank and when it's cold outside the liquid in the tank gets to a point where it doesn't boil producing more vapor and pressure so even if you turn up the regulator the tank is only out pouting so much pressure PSI. When running during cold weather they will have to bring more full propane tanks to get thru the jobs.
"A propane tank will freeze if there isn't enough heat to convert the liquid propane into gas in a process called vaporization. The heat typically comes from the ambient air, but if it's too cold outside or the liquid-to-surface ratio in the tank is too low, the tank can freeze."
HOW much BTU heat in this product?
The RY2x2 Heater has a 75,000 BTU/hr Infrared burner.
Can you use it to heat an area that has previous crack filler (rubber) in it? Can you use it to heat an area that has previous cold patch filling the hole/crack?
Yes. You can use the RY2X2 Infrared Asphalt Heater to any previously filled cracks - whether with the hot pour rubberized crack filler or with the cold patch.
Q Interested in your infrared pothole machine. How does it work if I have an area bigger than 2 feet? Do you simply work in 2foot sections? Is there a recommended overlap? How high does old asphalt need to be to obtain a flush surface after tamping?
A Yes, if you have areas that are larger than 4 sq ft you would have to do multiple presses. Each press takes about 7 minutes and you can overlap 4 inches on each press. You generally add new asphalt or milling and hold it a half-inch higher than the...
Where should I ignite the RY2X2?
The torch should be lighting the ceramic mesh cartridge instead of the top part. Place the tip of the torch underneath the skirt to light the heater.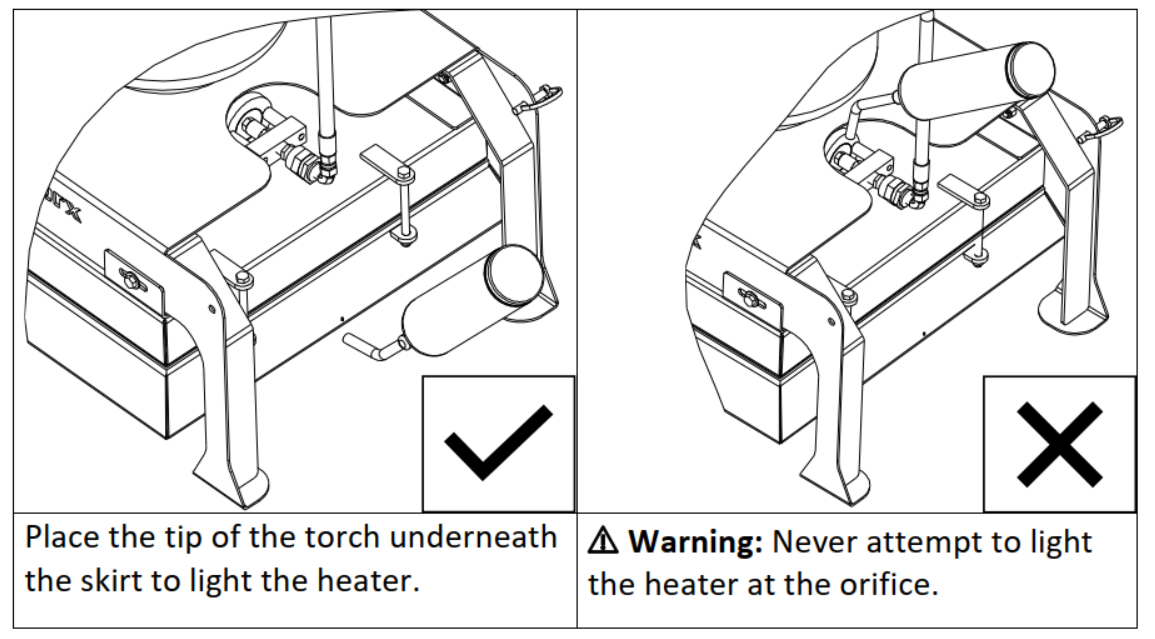 RY2X2 Infrared Asphalt Heaters will bring distressed asphalt back to life. Infrared technology allows you to heat up and soften damaged areas so that they can be re-worked and compacted to appear brand new. In as little as 5 minutes this heater will have the asphalt brought to its original mixing temperature, allowing for effective and cost-efficient repairs. You'll now be able to spend minimal time repairing potholes, bird baths, cracks, and surface imperfections on both new and used asphalt.
Eliminate trips to purchase new asphalt and dispose of old damaged asphalt by simply re-heating and re-working the affected areas.
The Mini Infrared Heater has one of the lowest operating costs on the market, in ideal operating conditions you can run your heater for as little as $1.50 per hour.
The Mini Infrared Heater design is self-contained and unlike an open flame torch, will not be affected by weather conditions. Since there is no torch you can work on even the windiest days.
The heater cartridge has a typical life of 1,500 hours and can easily be replaced in less than 20 minutes.
Caster wheels with heat shields allow a single operator to maneuver throughout parking lots and driveways without needing a second person to move the heater.
Ergonomic adjustable handlebars allow for a compact footprint during transportation and a raised position during operation.
Adjustable regulator with built-in pressure gauge allows for safe and precise control of fuel flow and heater temperature.
Infrared heater technology replaces the need for an open torch flame which creates a safer work area for the operator.